School is over, and you have the opportunity to enjoy this beautiful summer weather. It's time to get yourself outside of the urban city, disconnect yourself from the daily grind, and rejuvenate your soul from the stressful yet rewarding school year by going on a summer retreat. Here are two ways to get you in touch with nature that are also Instagram-friendly.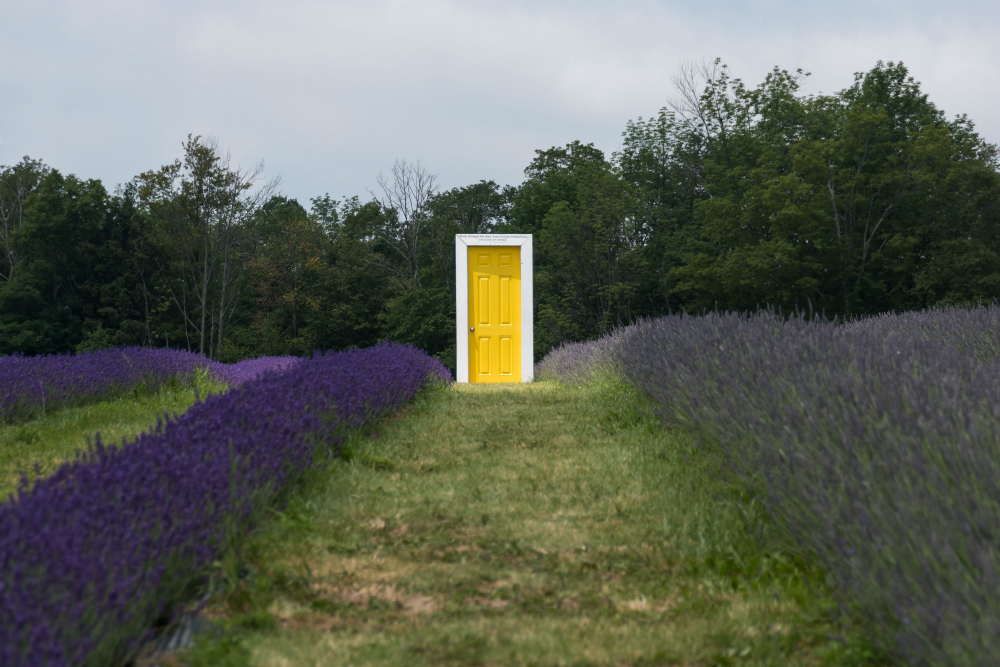 1—Stroll through a lavender field. Ontario, Canada, is home to many beautiful nature spots, especially lavender farms. Visiting a lavender farm such as Terre Bleu Lavender Farm, located 45 minutes from Toronto in Milton, during their blooming season for your summer retreat will bring you on a magical adventure that calms your soul in the sea of purple flowers.
At this farm, there are eight varieties of lavenders in colors ranging from light pink to dark purple. As a Fashionista, I recommend wearing a comfortable outfit for photo shoots at lavender fields, such as a denim shirt and a simple white top, and finish your outfit with a pair of black distressed jeans and my favorite clean white sneakers from Wills Vegan Shoes. A black leather backpack is also the perfect bag to carry your camera. As you stroll along the endless rows of flowers, the infamous yellow door is also a go-to spot where you can take the perfect travel candid shot.
As you finish exploring the different lavender fields, don't forget to enjoy their lavender-flavored ice cream that tastes floral and creamy. Also, be sure to shop around at their gift shop for products that are amazing for your skin, your cravings, and your sleep.
2—Fish on a lake. If land adventures don't excite you, then why not try something on water? Hastings, Ontario, is just two hours from Toronto and has been named Canada's ultimate fishing town.
Whether you are renting a canoe, a speedboat, or a pontoon, you will surely enjoy the breathtaking view surrounded by the calming white noise of the waves. Some of the common fish species that I came across are freshwater bass, catfish, perch, and sunfish.
Sometimes water splatters when you reel in a fish. To prevent my phone from getting any water damage, I carried a waterproof phone case from Catalyst Case that has a rubber bumper and silicone seals to keep my phone watertight. The transparent, slim, and strong material ensures the phone case protects while still being fashionable.
Don't be disappointed if you don't catch any fish in the end—enjoying the sun and the cool breeze in the middle of a calm lake are also a great way to relax and contemplate about life during your summer retreat.
What is your ideal summer retreat? Let me know in the comments below!