Most people in the fashion world find it intimidating to pair denim with denim. I can see why it can be considered risky looking back at Britney Spears and Justin Timberlake's denim fiasco back in 2001. But the truth is, there are no rules in fashion. It's important to have confidence in what you are wearing. So, here are some tips to help you feel fierce while rocking denim on denim. It's totally possible!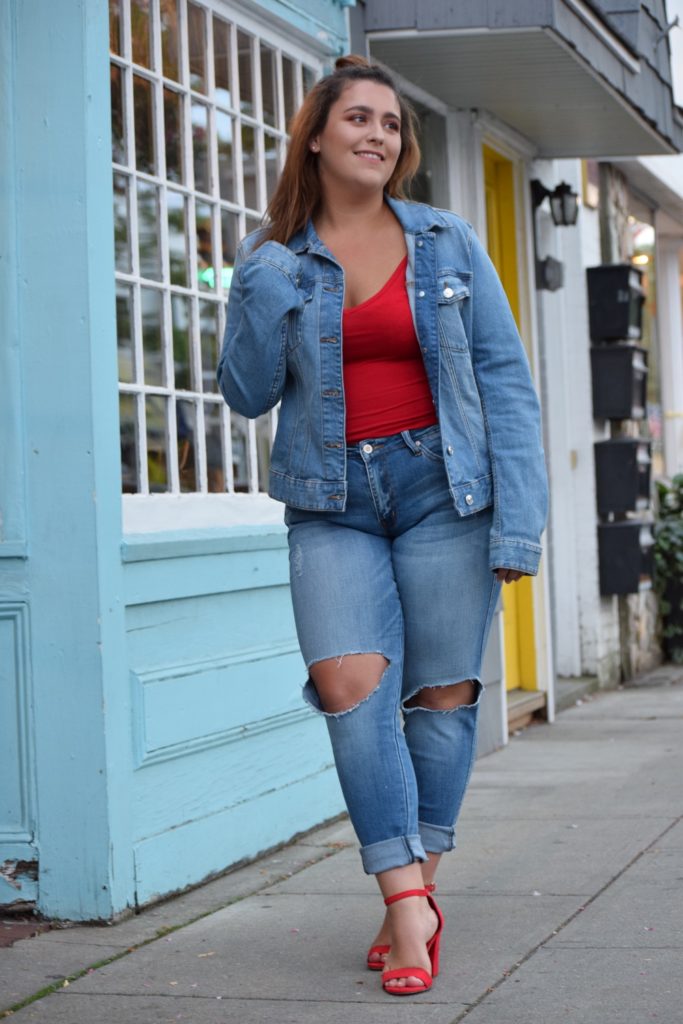 If you want to wear denim on the top, it's always safe to choose a denim jacket. This Fashionista wore an adorable denim jacket paired with distressed jeans. If you don't want to match your denim separates exactly, wearing distressed jeans is the way to go. It breaks up the outfit and it keeps it exciting.
One thing that is always hard to figure out is whether or not to pair a light wash of denim with a dark wash of denim. If you want to wear both light wash and dark wash, go with the light top and dark bottoms. It's usually the most flattering. Another option is to wear the same wash of denim like this stylish Fashionista chose to do.
Another way to achieve this look is adding a pop of color to the outfit. It will help you rock this look for sure. For example, this Fashionista is wearing a red crop top and red ankle-strap heels to pull this look together. Try wearing a basic top so the outfit won't look too busy. This is a great tip for beginners because the bold choice of color prevents the denim from looking too excessive, which will allow you feel more comfortable and confident.
And there you have it! Whoever said denim on denim is fallacious is now proven otherwise. It can totally look fabulous when using these tips. While wearing a bold look can be intimidating, it can be fun to step outside of your comfort zone every once in awhile. Fashion is all about breaking the rules today, from mixing patterns to wearing white after Labor Day. Be a trendsetter!
How do you wear your denim? Let us know in the comments!