Off-the-shoulder tops are super hot this year! There are several different ways to style this type of top, but this article will focus on how to style them with tulle skirts and cute accessories.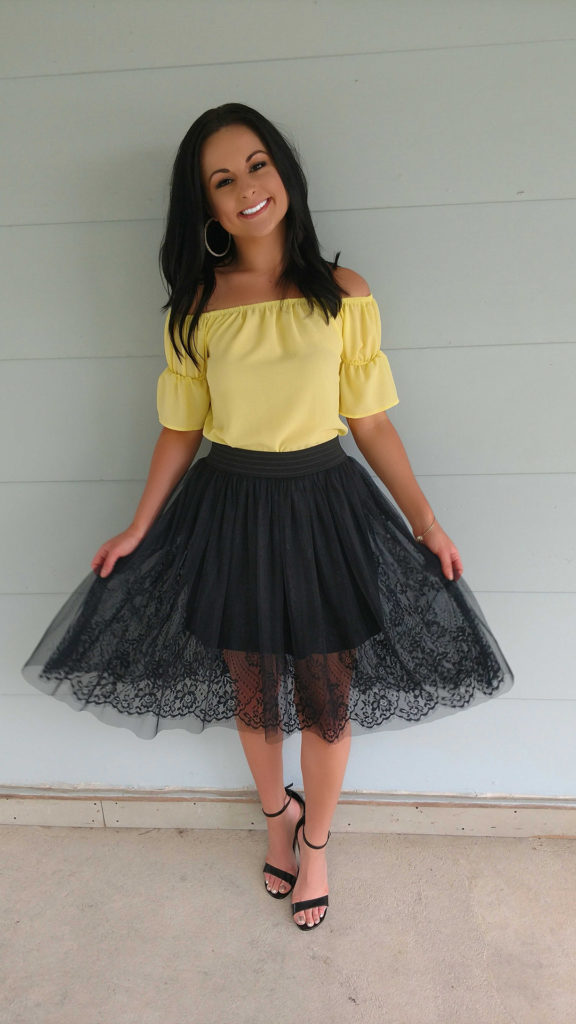 First you will need to choose a top that is not a baby doll, extra boxy, or one that has ruffles at the bottom of the shirt. This is very important if you want to tuck your top into your skirt! Here is a cute off-the-shoulder top that will wear well tucked in.
Secondly, choose a skirt that has a wide waistband. This allows the wearer's waist to look slim and cinched in. Here is a black tulle skirt with a wide waistband.


Because there is a lot of detail going on with the black lace tulle skirt, I went with a simple black heel. Clean black heels are a staple piece that every woman should have in her closet.
You may add a printed scarf as shown to give your outfit an extra pop. By doing so, your look will be more fun and polished! For an off-the-shoulder top, you should tie the scarf on the side of your neck and drape it over your shoulder. It is perfectly acceptable to wear the scarf wherever you are going, then take it off and tie it around your purse handle. Here is the cutest polka dot scarf.
How do you style your off the shoulder tops? Be sure to show off your looks on social media! Don't forget to tag @Cfashionista.