Warm weather, tan lines, and summer nights. Do you know what that means? It's only the best time of the year—it's country concert season! If you're anything like me, you love nothing more than getting dressed up, tailgating with your best friends, and dancing the night away. What are some good outfit options? I'm here to give you some great ideas to ensure you look fabulous!
1—Cowboy Boots. Every single outfit needs a pair of cowboy boots to tie the look all together. Luckily, there are a million different kinds so you're bound to find your color and style. I am into the more basic, brown, and mid-length style. I like that they can go with absolutely anything I wear. Top brands are Ariat, Justin, Durango, and Tony Lama.
2—Chambray and Denim. Chambray and denim are a big trend at the moment! This makes it super easy on us to just grab a chambray/jean dress and throw on our boots. It is so effortless and perfect for dancing the night away. Pictured below is a chambray dress from Forever 21. It is super lightweight and affordable. You can find one many different places as well.
3—Shorts and an Off-the-Shoulder Top. Let's throw it back to the basics. What is more country than a pair of cut off denim shorts? Literally nothing. You cannot go wrong with a dark or light wash pair of jean shorts. Buy a pair from just about anywhere to start the look off right. In the past, I would say throw on a lacy white tank top but let's get a little more trendy here. Let's show the shoulders! A huge trend right now is off-the-shoulder tops. This is a trend that is growing rapidly and appears to be staying. Just about any apparel store sells them at this point but this Fashionista wears a beautiful floral one from American Eagle.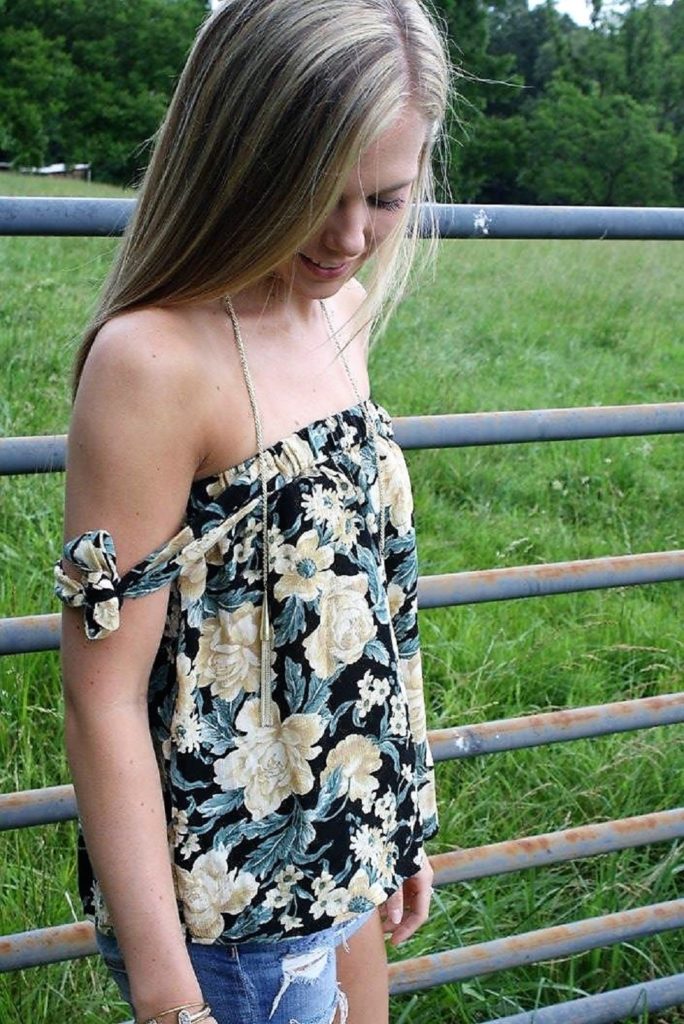 4—Romper. At the beach? Not a problem. You can still be trendy and look beachy for a country concert. My favorite go-to is a romper. Let's be honest here, this a trend that doesn't seem to be fading either. Floral, tropical, or tie-dye is a country neutral that seems to tie the look together. Something flowy, lightweight, and cotton would be a go-to for me to stay cool in that beach heat.
What country concerts are you going to this summer? Comment below to share!