It's no surprise that history tends to repeat itself. This statement can be seen through the repetition of trends throughout many decades. Styles never fully go away and are recycled for a new generation. Recently, we have seen the re-emergence of trends from the 1990s such as chokers, overalls, slip dresses, and athletic wear as fashion. The decade that's now having a resurgence of popularity in the 1970s. There are so many iconic trends that came about during this decade. Many people draw inspiration from these trends that arose during the '70s to create a retro mood for a modern look. I am a big fan of many trends from this decade and I am excited to see how they are returning for this upcoming fall. Below, you can see my take on a look from the 1970s.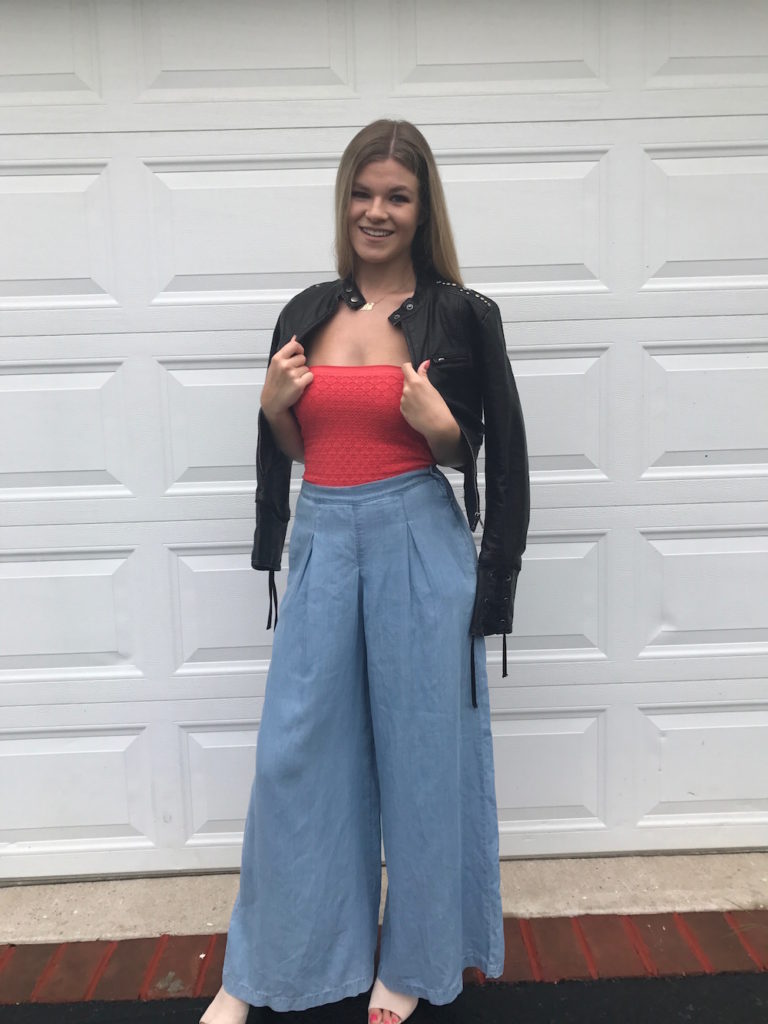 To begin my 1970s look, I wanted to mix hippie and rocker aspects that were popular in this decade. I chose a coral tube top with a textured, floral pattern. Although billowy tunics were popular in the 1970s, tube tops were also a favorite for many women. The bright coral is reminiscent of the early '70s as muted, earthy tones became popular later in the decade. I wanted to give my look a modern update with a more subdued floral pattern instead of using the big prints that were typical of the '70s. Next, I wanted to draw inspiration from the punk-rock subculture that was so influential to '70s fashion. I chose a studded leather jacket to give my look an edgier feel. This jacket contrasts with the carefree and hippie aspects of my outfit.
Additionally, I added wide-leg, chambray pants to my look. I believe these pants are the most representative piece to the 1970s. The high waistline and flare of the pants create an image that will make anyone instantly think of the decade. Also, the billowy pants contrast perfectly with the slim-fitting tube top. I opted for chambray pants instead of denim to have a lighter feel for fall. Finally, I slipped on a pair of blush mules to complete my look. In the 1970s, backless shoes with a chunky heel were frequently sported. Incorporating the blush color makes the shoe a favorite for 2017.
The styles of the 1970s are coming back in a big way. I am so excited to rock more of these '70s trends for the fall!
 What are your favorite trends from the '70s? Let me know in the comments below!