During the past month, I was lucky enough to have spent a week traveling Italy with my family. While I enjoyed sightseeing and all of the culture of the beautiful country, I was especially interested in the fashion and trends that can be spotted almost anywhere. Feeling inspired by the fashion around me, I put together these five outfits.
This first outfit I put together for a casual day of shopping in Milan. These wide-leg pants are super comfortable and could be seen all over the fashion capital. I paired my pants with a simple black top to balance out the bolder pattern of the pants. I accessorized with a simple black hat, brown watch, and basic brown sandals.
While still in Milan, I styled this outfit for a somewhat casual dinner with my family. I focused the look around the statement green sunglasses. I found tons of unique, fun glasses like these while shopping the streets and decided I must have a pair of my own. I paired the sunglasses with this striped blouse, solid skinny jeans, and white platform wedges.
I wore this outfit to a more dressy dinner on the island of Capri. This look has a similar theme to the last with the stripes and another pair of statement sunglasses, but with darker colors in order to create a more formal vibe.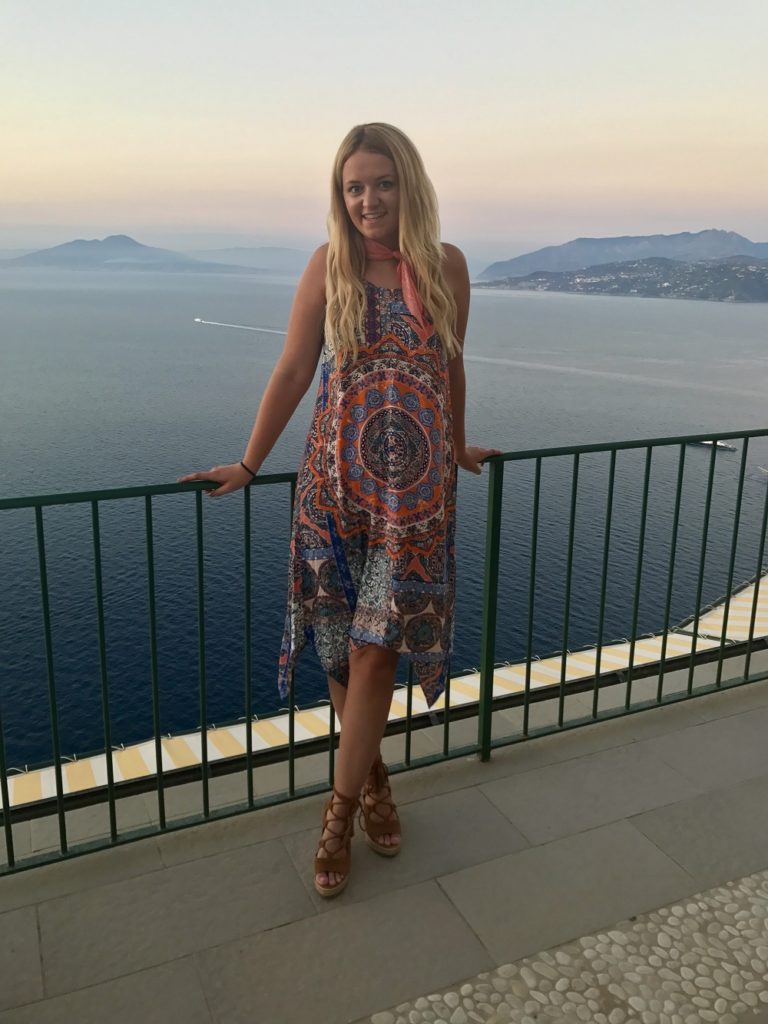 This next look has a colorful bohemian style and was perfect for lunch on the island. I love this dress because of its unique print and hemline. I paired the look with chunky, lace-up wedges and complementing bandana scarf. These types of scarves were another trend I saw in abundance throughout my trip.
My last outfit was styled for a day of shopping and sightseeing in Positano. I kept the look pretty simple with a solid black oversize top and patterned shorts. To accessorize, I chose a pair of comfortable nude heels and a black crossbody.
Did anyone else go abroad this summer? If so, what trends did you spot? Let me know in the comments below!