Athleisure is one of my favorite trends. There is nothing better than looking cute and being comfortable at the same time. Clothes that were once only for the gym have become acceptable to wear out and about when we all know you have zero intentions of working out. For someone who loves athletic clothes, but does not love to workout, this is the perfect trend for you.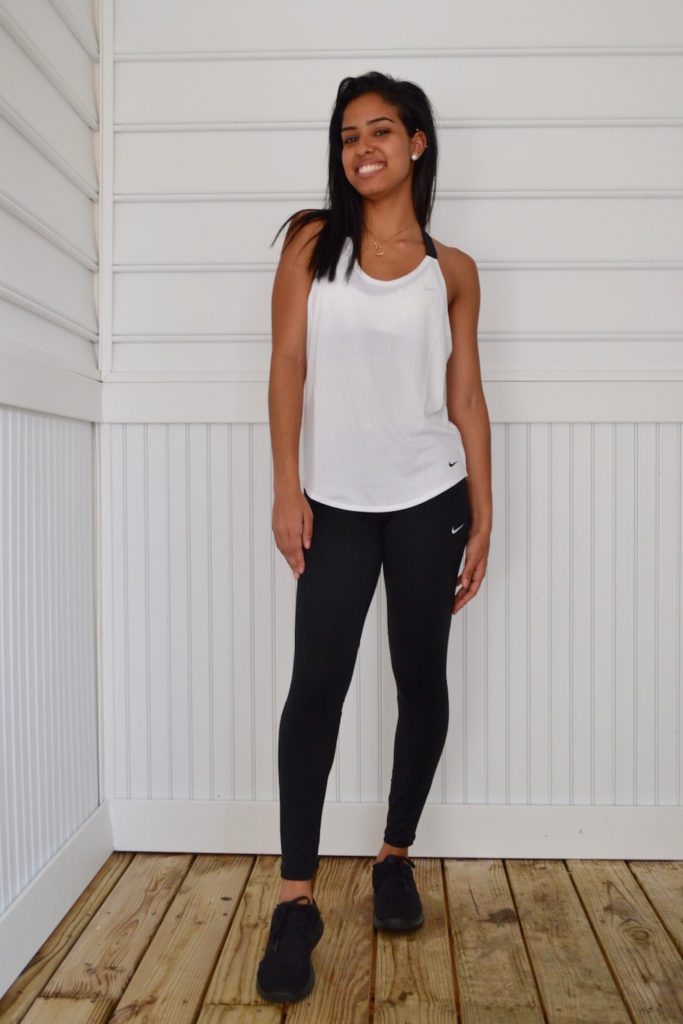 Athleisure is a broad category that many different brands have created their own lines of. While some are more casual than others, others tend to be nicer than your average gym clothes. With such variety available, it is easy to wander astray. Since you can either buy actual athletic clothes or specifically athleisure wear, there are some key do's and don'ts of this trend. I have compiled these guidelines into two simple lists that will leave you rocking the athleisure look this fall.
Do
1—Find what fits you best (i.e full-length leggings vs cropped leggings).
2—Keep it simple.
3—Cute sneakers.
4—Wear sports bras or bralettes.
5—Rock the athletic look when it is appropriate (class, errands, shopping).
Don't
1—Wear two loose fitting items.
2—Wear too many bright colors.
3—Flip Flops or sandals.
4—Let your socks show.
This Fashionista followed all the do's of the athleisure trend. She has long, slim legs, therefore the full-length leggings make her legs looks even longer, and fit her perfectly. She kept the whole outfit very simple by pairing black and white, which is always a great decision. She is wearing a simple white tank top with a sports bra to match. When it comes to athletic tank tops, many of them make your bra very visible, which is why it is very important to make sure whatever you are wearing underneath is not only cute but also matching. She paired her super simple outfit with all-black Nike sneakers. While I think you can absolutely pair a simple outfit like this with a colorful sneaker, it is always a safe bet to go with black.
Going out in athletic clothes to anywhere but the gym is a more recent trend, but it is a pretty awesome one because who doesn't want to be comfortable when they are going to class or the grocery store?
What's your favorite way to wear the athleisure trend? Show us on social media! Don't forget to tag @Cfashionista.