It's summer and it feels like if we're not working, we're trying to have as much fun as we can before school starts again. This means brunching, going into nature, attending concerts, and days at the beach. This also means that you're going to need the perfect pair of shoes for each adventure that you'll go on. As we all know, good shoes take you to good places. I'm sure we all own a ton of shoes, but I'm going to tell you the four shoes that are absolute must-haves for this summer.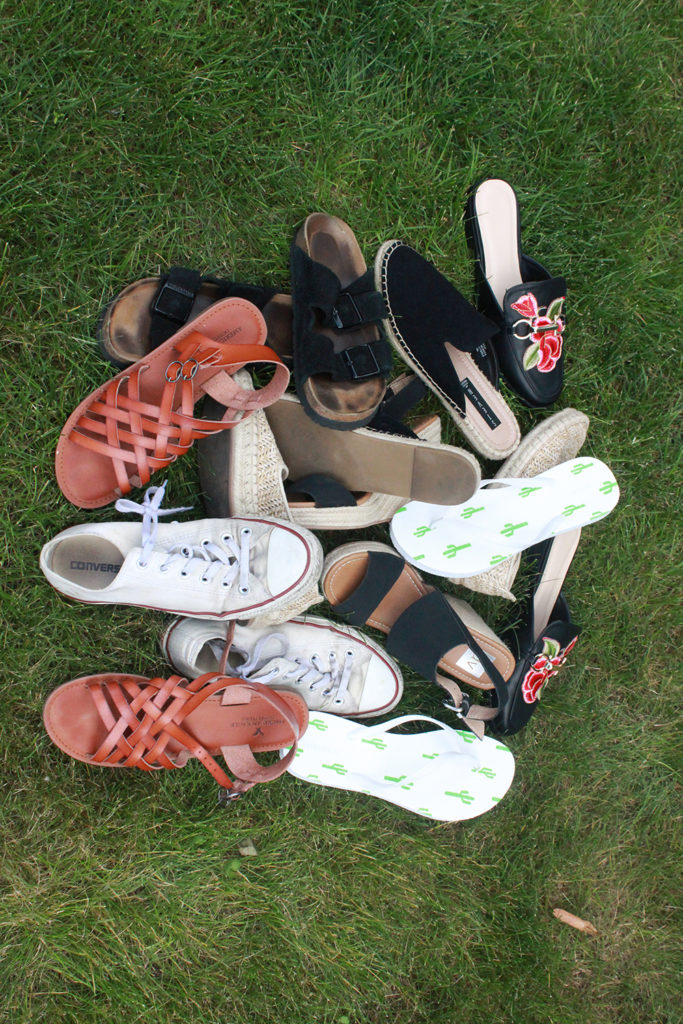 1—Espadrilles. This pair of shoes is non-negotiable! They are the perfect summer shoe for every outfit. That summery dress or pair of linen pants will look amazing with these shoes. They're super versatile and you can get them into so many different types. You could get wedges if you're dressing up or mules if you're dressing down. My pair is from Target's DV line but you can get a similar pair from KAANAS here.
2—Cute flip flops. This one seems like a no-brainer but you wouldn't believe the amount of worn out and ugly flip flops I see at the beach. Flip flops are cheap and you can get so many different cute ones. Throw on some vintage shorts and an old T-shirt with them and you're ready for a great beach day! Mine are from Forever 21 but you can get an even cuter pair from Havaianas here.
3—Worn out Converse. Adventures and concerts are the best in the summer, but they can definitely ruin your shoes. All of that dirt is the worst and can make a cute pair of shoes ugly. That's why you should have a pair of beaten up shoes for these days! My Converse Chuck Taylors are not clean anymore and that is why they're perfect for wearing to Lollapalooza or Warped Tour.
4—Embroidered shoes. Embroidered shoes are absolutely my favorite trend of 2017. There are so many different types of shoes to pick from. Personally, my favorite is the embroidered mule because of the extremely popular Gucci shoes. However, not everyone can afford those, which is why we are blessed with similar shoes from Forever 21. These shoes will also step up for your Instagram when you take a photo with a cute floor. What's not to love about that?
I can't wait to see how you incorporate these essential shoes into your summer looks. Make sure to show us how this post inspired your outfit and share with us on social media by tagging @Cfashionista!