For the month of July, I decided to join in on the tenth 30-day wardrobe challenge and third summer version. The purpose of this challenge is to update or reboot my summer style. I would also be able to challenge my creativity and change up my personal style. This gives me the extra push to reach outside of my comfort zone by dressing in different styles and wearing unique pieces of clothing or accessories that I normally wouldn't wear. Trying new things is always a great way to find motivation and inspiration. In addition, you get to learn more about yourself!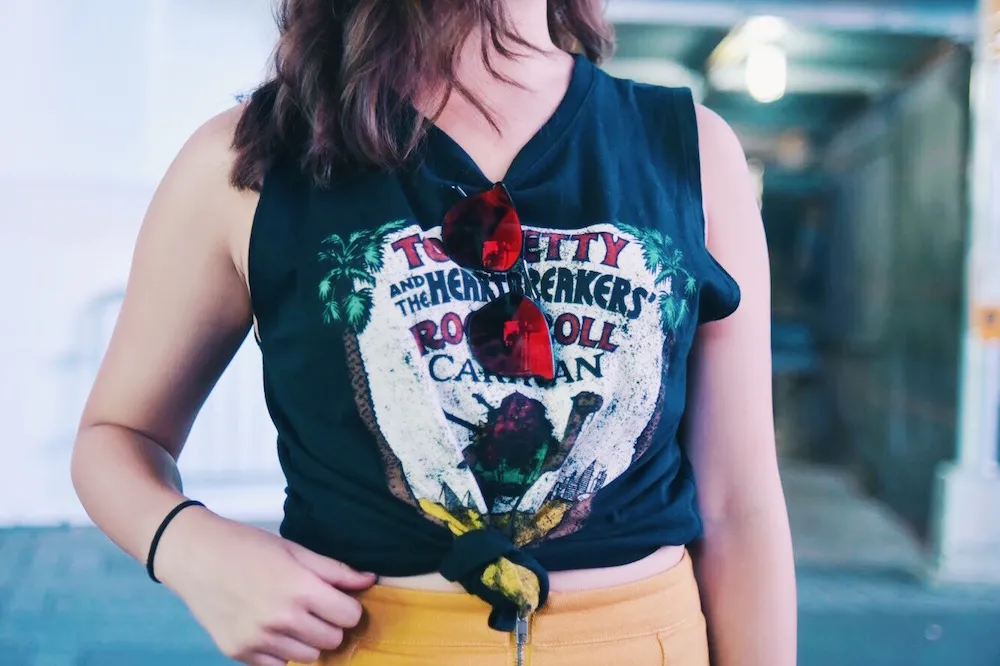 For day one, the challenge was to style an old T-shirt in a knot. This theme got me so excited because T-shirts are the most comfortable tops ever and you can style it up in so many different ways. I can probably come up with five different looks with just one T-shirt.
For the top, I cut off the sleeves, tied it up in a cute knot in the front and paired it up with a mustard colored skirt. I really like the color combination of this outfit. The dark T-shirt really helps make the vivid yellow pop out. Moreover, the graphic design on the T-shirt adds a little fun to this simple outfit.
To add more color, I added in red reflective shades. This helped my outfit look more bold and vibrant. The colors of the shades and skirt complement each other because both colors are vivid and have a lot of contrast. For the shoes, I wore my favorite flat mules. Now my outfit has a mixture of sophistication and a little bit of grunge vibe.
For the makeup, I decided to go vivid as well. I wore a matte red lip stain with a sharp cat-eye look. I did not use eye shadow because I wanted the natural look with bold lips. The bold lips match well with the contrasted theme of this outfit. I don't usually wear a lot of bright colors but this colored theme made me want to wear more festive colors.
Join in on the 30-day wardrobe challenge and submit your photos with the hashtag #WWWsummer30 for a chance to be featured. Comment below how you styled your first old T-shirt challenge!