Last week, I took a day trip to Washington, D.C. with my parents. It felt like for the first time, I was actually seeing D.C. I have been there before when I was little, and on field trips in middle school, but they were nothing special. For the first time, I was able to plan my own trip to highlight the attractions I have always wanted to explore. Since I had such an amazing time there, I wanted to share my experience with you!
One of the best things about Washington, D.C. is that the majority of the major museums in the city are free. My parents and I chose to visit the National Gallery of Art first. The building is basically all marble and filled to the brim with beautiful art pieces. Even if you aren't someone who enjoys art, this museum is definitely worth a visit. There are so many different exhibits to enjoy, from 18th-century European art to modern photographs and sculptures.
After the National Gallery of Art, we visited the historic Washington Monument, a must-see when you are in D.C. It is one of the attractions the District is known best for. To close out the trip, we ended the day at the Jefferson Memorial. I would absolutely recommend visiting here. It's a great place to take some pictures with your family and friends right on the water.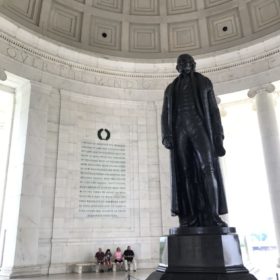 If you've never been to D.C. before, I would totally recommend planning a trip before the summer is over! It's a historical and political city that has so many things to do. There is an array of different museums you can visit, delicious (and slightly overpriced) food, and the National Mall where you can do some serious shopping.
Before you embark on your big city adventure, there are a few things to keep in mind. If you are visiting in the summer, make sure to dress appropriately for the heat. I chose to keep it simple with a plain white bodysuit and some distressed denim shorts. To make your trip more comfortable, I would suggest wearing sneakers with support because there will be a lot of walking. The bag I chose was a leather backpack that kept all my personal items concealed. It was perfect for being a tourist for the day. Also, remember to stay hydrated.
Have you ever been to D.C. before? What were your favorite places to go? Let me know in the comments below! Don't forget to tag @CFashionista on social media.
SaveSave