Were you born with good jeans? Just as everyone is different and beautiful, denim can be worn in so many fun and interesting ways. Styles are constantly changing, but denim is always in fashion. A current and fun way to wear this look is to mix and match several different pieces, known as denim on denim.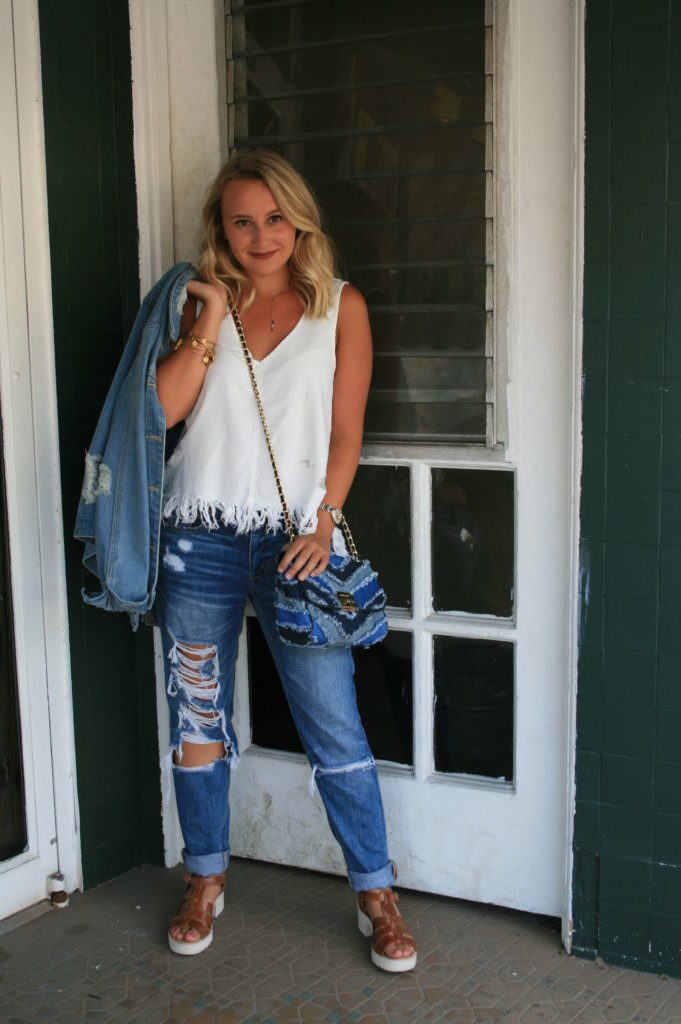 My favorite denim looks often start with a pair of ripped jeans, like the American Eagle Outfitters boyfriend jeans, in a medium wash seen here. Boyfriend jeans can be found everywhere! Wearing different washes together gives the look depth. The white tank top shown, also shredded and ripped, comes from American Eagle Outfitters as well. This combination goes great with a lighter wash jean jacket found at T.J.Maxx. The piece that ties the whole outfit together is this amazing Michael Kors crossbody bag. This bag was found at the Michael Kors outlet in Orlando, Florida. Handbags are my favorite accessory because they can make or break the whole outfit.
Each piece in this ensemble is versatile and can be mixed to make many other outfits. That is the beauty of this fabric. This outfit can be worn anywhere from a casual coffee shop in the day to a night on the town. Gold jewelry to match the hardware on the handbag could be used to dress the whole look up. Multiple rings and bracelets or even a statement necklace could easily jazz things up. Shoes are also another way to change the look. This outfit is seen with casual leather chunky heels from my favorite hole-in-the-wall shop, Gabes. Colorful block heels or stilettos could be added to dress up the outfit. Another trend that would look great with this outfit is a pair of embroidered chunky heels.
What are your favorite denim on denim looks? Post a picture on social media! Don't forget to tag @Cfashionista.