Even a Southern California native can forget to take advantage of the beach. Recently, I made a promise to myself to start appreciating what living on the coast has to offer. So, my friends and I decided to beat the heat and have a picnic at the beach to watch one of our vivid sunsets. Nothing is more fun than juggling a ton of beach blankets to your favorite spot. So spread out a selection of Trader Joe's food and drinks so that you can relax out it the sun with your friends. At the end of this article, I'll also be listing my favorite beach tunes to play while you're having your beach picnic.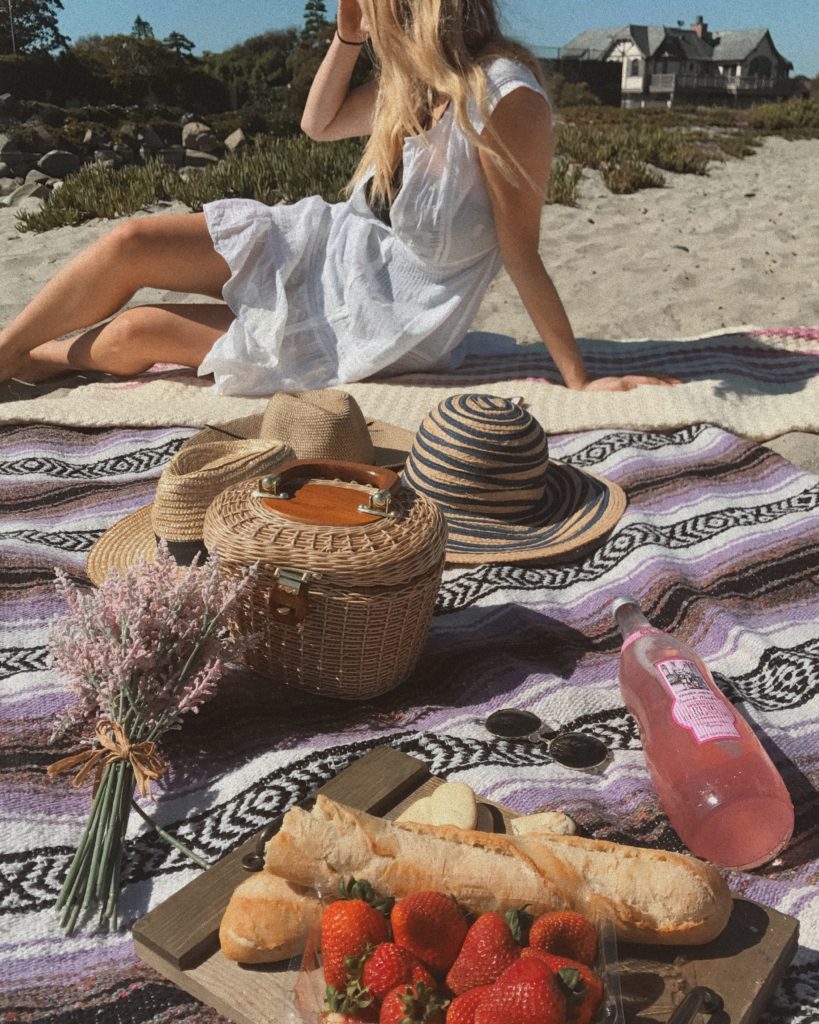 One great way to make sure your food doesn't get sandy is to take extra blankets to make a safe barrier. Bringing this large wooden cutting board not only helped keep the food in it's proper place, but looked great for displaying the food in photos. My friend, Vendela, owns a wicker bucket bag that is currently hot on trend. This vintage wicker basket bag brings back the seventies, Jane Birkin style. As you can see, my friends and I all brought hats to protect our hair and face from too much sun. Always bring sunscreen, hats, and sunglasses to protect yourself from UV rays. Being cautious of the sun is cute! Just like those John Lennon look-a-like sunglasses.
I'm wearing one of my prized thrifted finds. My crochet bikini top. This style has been seen everywhere on Instagram, Tumblr, Coachella,  and Free People. It's the ultimate summer styling essential, because it can be worn as both a top, and a bikini. I'm also wearing my woven sunhat, and a pair of linen bell bottom pants from Anthropologie.
It seems to never cool off during summer in San Diego, even after the sun has dropped into the ocean. The vibrant sunsets on the coast should never be missed. This time of day is also some of the best lighting for photos. It's known as the "Golden Hour." Don't be discouraged if you don't live by a beach. A picnic can be done in parks, by a lake, and even your own backyard. So, pick up some brie cheese, fresh fruit, a baguette, and your friends to have a summer picnic.
How will you take advantage of your summer? Let me know down below!