It's the best time of the year. Time to pack pool towels, sandals, and a unicorn float for that über-cute Instagram photo you've been dreaming of all year. It's time for summer vacation, and I can literally smell the sunscreen and salty air as I'm writing this.
When it comes to packing, I do my best to follow the "pack smarter, not harder" mantra, and there's nothing smarter (and cuter) than a chambray skirt. Chambray is a look that has never gone out of style because let's face it—it's lightweight, perfectly understated, incredibly versatile, and nothing screams summer more than a light wash denim.
The chambray skirt is perfect because there is so much versatility in the way you can style it. If you're someone like me who's edgier style always needs to have a say in the outfit, a ripped collar shirt adds the perfect touch of grunge without clashing the styles of both pieces.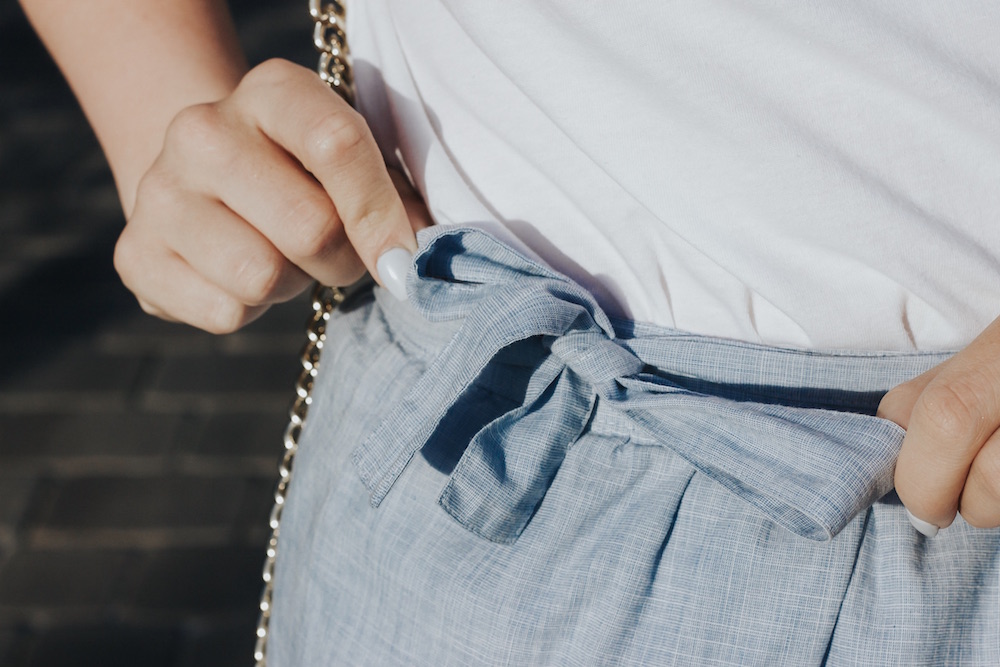 The tie on this skirt is one of my favorite elements about it, second to the ruffle detailing. It adds the perfect amount of detail and frill to the skirt without overdoing it, all while creating this adorable pleated look on the bottom. A chambray skirt is also an amazing piece to take on vacation with you because of its day-to-night functionality. Not only would it be cute and easy to throw on over your swimsuit bottoms with a pair of flip flops before heading to the pool, but could also transition to night with a lace bralette or crop top and a pair of wedges—all you have to do is fix your makeup and throw your hair up in a high pony!
The platform shoe trend that came back a few years ago, and is definitely here to stay. This is another way to edge up the chambray skirt look. These Steve Madden platforms stay comfortable for a whole day of walking and touring and are a perfect way to stay on-trend while remaining incredibly functional.
Lastly, I paired my chambray skirt outfit with my favorite sunglasses and Rebecca Minkoff bag. Perfect for storing your favorite lipgloss, cellphone, travel size sunscreen, and wallet, this bag is essential for going out and it matches perfectly with the shoes.
There are so many more awesome summer outfit combinations you can make with this chambray skirt, it looks like I'm going to have to plan another trip!
Are you going on a summer vacation? I would love to hear where everyone is going in the comments below and some outfits you're all planning on bringing!