Living here in Nevada means that there are various climates all year around. This means that Fashionistas have to accustom their style to provide insurance for all types of surprises. Hence this next outfit of the day.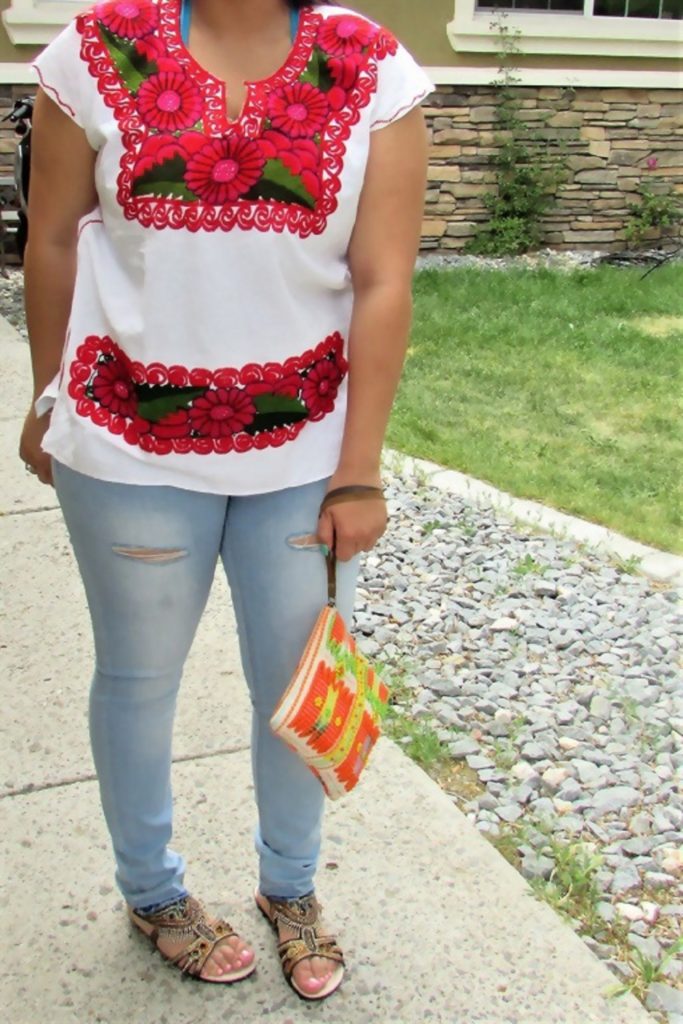 Here, we have this Fashionista wearing a floral embroidered shirt, which is the eye catching piece of this outfit. This shirt was purchased in her hometown in Mexico. However, this trend has become popular in the United States, which means embroidered pieces wont be too hard to find. She has paired this blouse with some light wash jeans. By doing so, she is giving her outfit a bright and soft look—perfect for the summer. Nevertheless, the jeans are also providing insurance for any type of weather without getting too hot or cold.
To accessorize, this Fashionista incorporates a beaded clutch with fun colors and sandals that definitely give off a fashion statement. Both her clutch and sandals are very chic and appealing to the eye. She prefers a clutch over a purse in the summer because it can dress up any outfit and add that extra glamour. The clutch on its own adds character to the outfit balancing the blouse and all its embroidery. Lastly, her sandals substitute the need for jewelry. That is because since their is so much going on already, adding the jeweled sandals allows for an even balance. The sandals are so beautiful and could be worn with all different types of outfits to give off that summer festival vibe.
In the summer, this Fashionista likes to leave her face looking natural and add a bold lip. The red lip really tied her outfit together because she is sticking with bright tones all throughout.
Floral embroidery has been in all spring, and as we transition to the summer, this trend will continue to appear on articles of clothing! Whats your favorite trend for the summer? Let me know in the comments below!