Effortlessly edgy and punk styles of clothing are my go-to, but to keep myself from falling into a fashion rut, I like to update my wardrobe by following some of the latest trends and changing up my makeup.
For my latest look, I created an easy date night outfit with a twist on the little black dress: a band T-shirt dress with the trendy choker collar, paired with fishnets and bright makeup. See what inspiration you can gather from my tips on refreshing this classic look!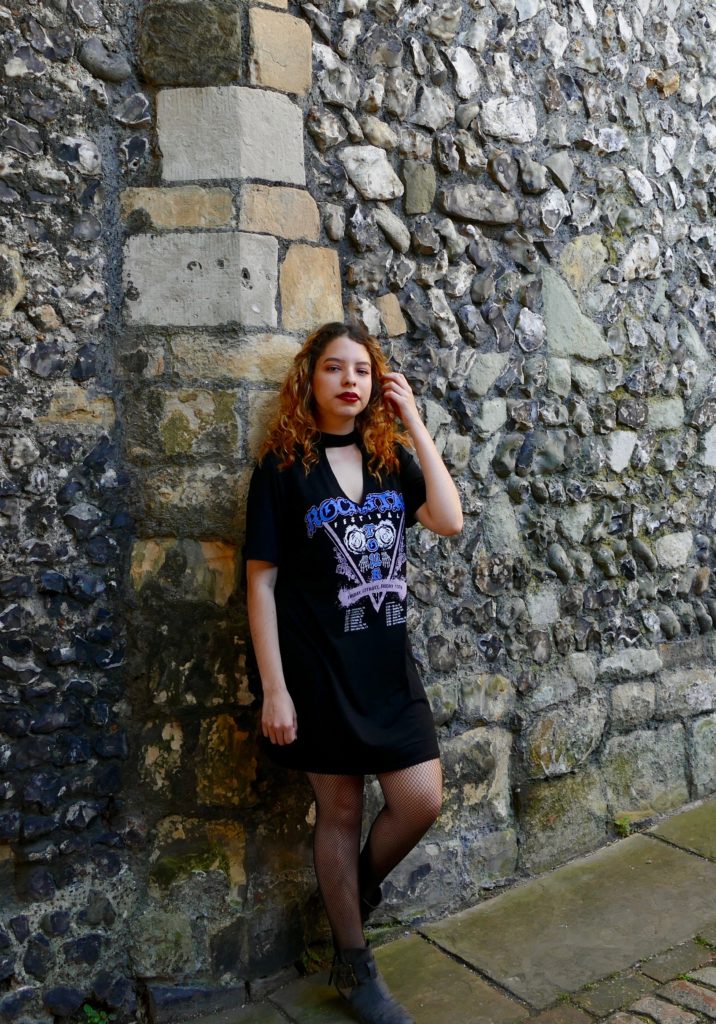 1—Shop for Trends Without Breaking the BankHalf of my wardrobe is made up of band T-shirts from Hot Topic and tours I have been to. When I first noticed the choker T-shirt trend, I thought of DIY-ing it with one of my shirts, but I love them all too much to trust myself with a pair of scissors around them. Luckily, I found a T-shirt dress with the choker trend and band aesthetic I was looking for. Boohoo USA has many of these for an affordable price.
2—Go for a T-Shirt Dress. T-shirt dresses always make me feel confident. They're comfortable, flowy, easy to style, and always make you look good!
3—Add an Unexpected Surprise. I decided to pair this already edgy dress with some fishnets and an old pair of booties. Fishnets add an unexpected flirty flair to any outfit. I love wearing them under cutoff shorts with (you guessed it) a band T-shirt. This makes for an effortless yet stylishly badass outfit every time.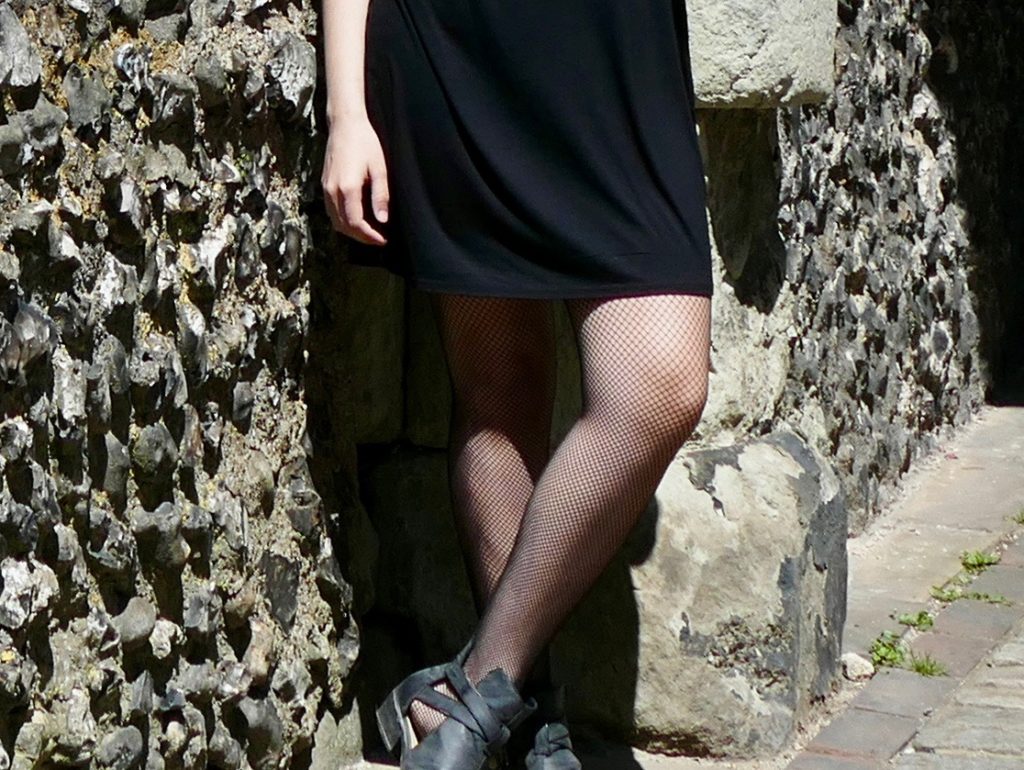 4—Try Fresh Yet Glam Makeup. For the makeup, I tried to keep it fresh for the summer with a light layer of NYX's Stay Matte but Not Flat foundation, a tinted brow mascara, and ColourPop Cosmetics Supershock Shadow in the shade Weenie, a mauve pink all over the lid and Wattles, a metallic rose gold on the center of the lid. I dabbed some Roller Lash mascara on my lashes, Tarte Amazonian Clay blush on my cheeks, Colourpop highlight in Stole the Show and ColourPop Cosmetics Poison Lippie Stix on the lips.
It was a fun and easy summer makeup look which gave my outfit a flirty vibe. You can totally add more steps to this makeup look or take some out. Or you can wear no makeup at all! I've been embracing the no makeup look these last few weeks, but a great outfit inspires me to try new makeup looks.
I haven't had a chance to wear this outfit for date night; I wore this look while abroad in England, but my boyfriend has seen pictures and he loves it! So, I can't wait to wear it out now that I'm back in the States.
How do you refresh the classic LBD with the season's latest trends? I'd love to see how you take inspiration from this look. Snap a picture, and don't forget to tag us @CFashionista on social media!