When it comes to picking out an outfit for work, each day I find myself aimlessly staring at my closet thinking that I have nothing to wear. I always feel as though I am constantly repeating outfits and that all my coworkers will notice. I tend to invest more in my purchases, which makes it feel as though I have less to wear. While still keeping up with the current fashion trends, I like to make sure I have staple pieces throughout my wardrobe. To create this look, I mixed basic pieces with trendier pieces.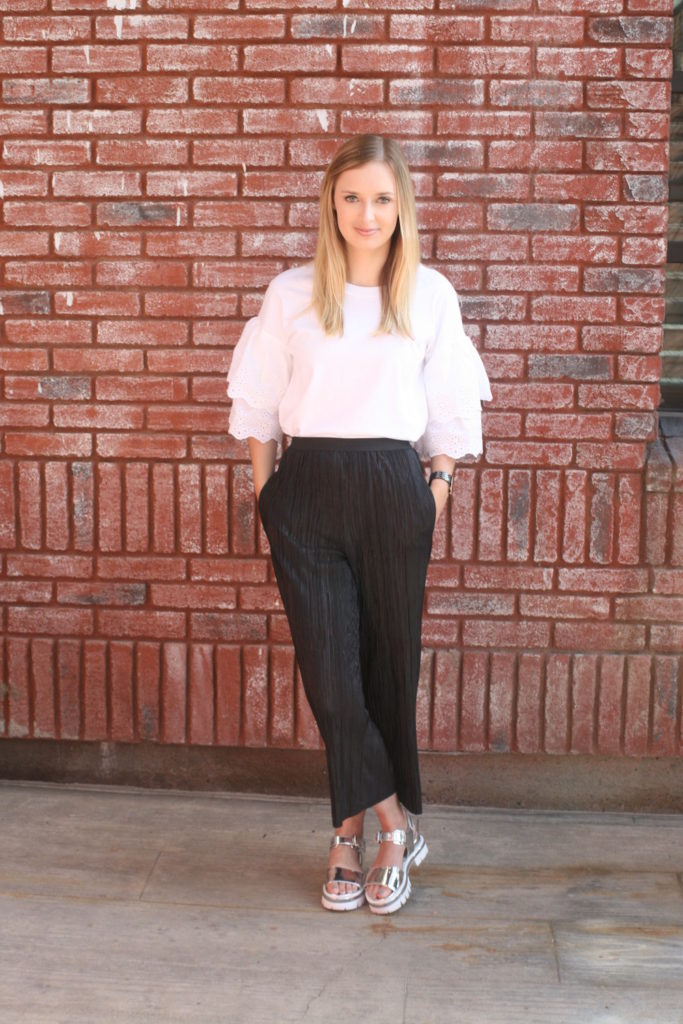 For this outfit, I chose a pair of black pants and a white top. This alone could be considered basic. However, the style of these two pieces is very trendy. The black pants are culottes which are on-trend for spring and summer. These pants can be worn with many different tops. I feel that they are going to be a staple item in my wardrobe this summer, especially for work. The fullness and layered effect on the sleeves add detail to the top. They are the key factor in turning a basic white T-shirt into a trendy top. This top fits boxy and was a little too long in proportion to the culottes, so I decided to tuck the shirt in which helped to defined my waist.
The silver sandals are perfect for summer. The combination of the white platform soles and the bright silver make them pop against the black culottes. Metallic colors are also on-trend for spring and summer. Incorporating this into shoes or accessories is the perfect way to do it. These sandals are also very versatile. They would look great with a pair of jeans as well.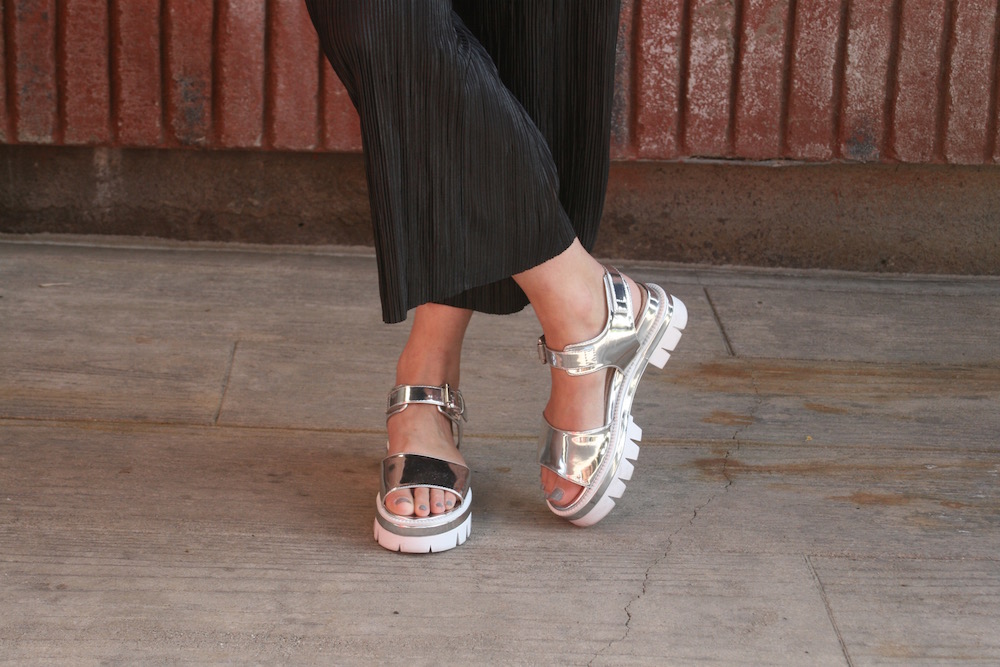 I chose to keep my accessories minimal since I had a lot going on with the detailing of the sleeves and my shoes. All of the pieces in my outfit I can wear separately and style to make three different looks for work. This will help me to expand my wardrobe possibilities while still staying on-trend.
This look I styled would be perfect not only for work but for brunch with friends or a day out in the city. All of these pieces could be individually worn for day or night and dressed up or down. The pieces in this look are all trendy yet staple items in my wardrobe that will help to expand my possibilities for my work outfits.
Does anyone else feel as though they are stuck in a clothing rut when it comes to dressing for work? Let me know in the comments below.