This year is the year of streetwear. Our favorite celebrities, from the Kardashian clan to Rihanna to Cara Delevingne, are all rocking some seriously cool streetwear styles. Despite what your parents may think, the more holes and rips in your clothes, the better. Who would have ever thought the time would come when wearing an oversize sweatshirt and some thigh-high boots could be stylish? Well, it has, and it is chicer than ever! We have our favorite high-end brands to thank for this. Gucci and Louis Vuitton pairing with Supreme and even Adidas have all inspired us to become streetwear savvy this summer.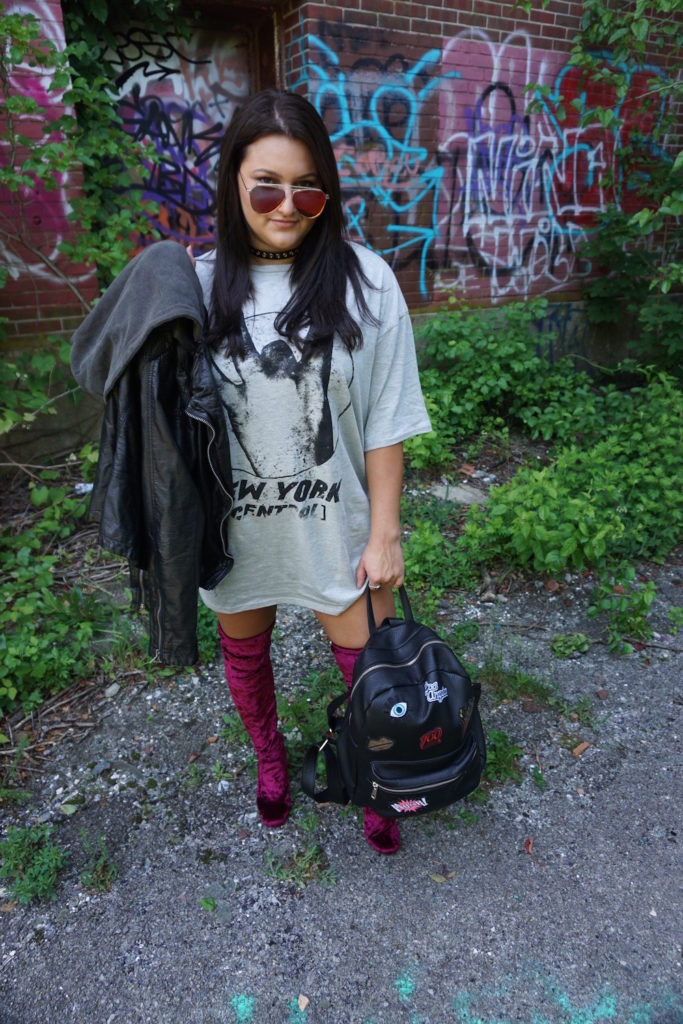 The best part about this style is it can be extremely versatile. This look can pass as a day-to-day outfit as well as a going out look. The streetwear style has become extremely popular, and finding pieces to achieve similar looks can be found almost everywhere. One of the key aspects to this look is the oversize top. As shown in this look, I am wearing an oversize graphic T-shirt dress. I have paired this oversize shirt with red velvet thigh-high boots to add a pop of color. A thigh-high boot or a sneaker is a great footwear option to pair with streetwear.
When it comes to streetwear, don't be afraid to play with fabrics. Denim, leather, satin, velvet, sheer, and lace can take your look to the next level. Your favorite celebs have utilized any and all fabrics to take their look to the next level. That being said, I have also added a leather jacket to my look.
As far as accessories go, streetwear should make a statement. I paired this look with a black leather backpack to match with the jacket. The patches placed all over this backpack make it super unique. Patches and embroidery have been extremely popular lately and add flair to any outfit. To finish the look, I added red flash oversize sunglasses to match the boots and a simple black and gold choker.
My best piece of advice to achieve street-style cred is to try on something you normally wouldn't. You never know how much you may fall in love with it, so dare to be different. Remember some key elements: rips, oversize elements, boots, fabrics, and accessories! Soon enough, you too will be strutting the streets looking like a Kardashian.
What does your favorite streetwear outfit look like? Show us on social media! Don't forget to tag @CFashionista.