A trip to Miami? No questions asked the flight will be booked right away. The next thing you know I will be sitting on the beach. Miami is absolutely the perfect summer getaway that includes the beach, fun, and of course, how could I ever forget? Fashion!
Of course, the beach is always the main focal point of all my trips. Miami Beach is probably one of the most lively beaches I've been to. I love people watching while I enjoy the beautiful crystal clear ocean water, listening to the distant sound of Will Smith's song "Miami" in the background.
Shopping in Miami
For people like me, shopping is a must everywhere, but in Miami, shopping is a necessity. The number of stores and boutiques are way too tempting; I can never keep myself away. Lincoln Road Mall is probably my favorite shopping area. There is a selection of stores on the strip with many cafes and restaurants. I always love going to the Urban Outfitters on Lincoln Road because the demographics of Miami Beach do not compare to anything at home. I purchased a sheer mesh bra which paired well with a sheer mesh top, a fuchsia belt, black shorts, and slip-on loafers.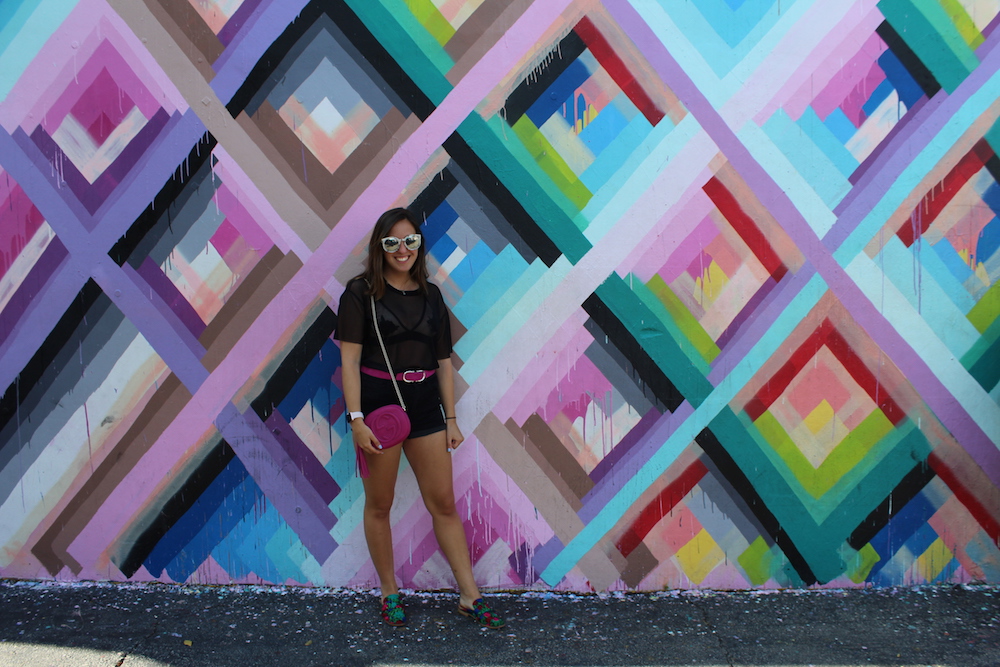 Macaroons, Miami? Absolutely!
I love getting a little touch of Paris while getting macaroons at Ladurée on Lincoln Road. It is always a tad depressing when I take a bite of my macaroon and look up and don't see the Eiffel Tower, but the palm trees make up for it. There is also a Ladurée stand at The Bal Harbour Shops located north of Miami Beach. The shops at Bal Harbour are more high-end luxury boutiques. I absolutely love wandering around the mall getting lost. I always find myself gazing at the beautiful bags right before my eyes. Bal Harbour has a few appetizing restaurants with outdoor seating. This is where you can watch all the people walking to and from their Rolls Royces, carrying hundreds of shopping bags.
Instagram-worthy
Whenever I need a change of scenery I head over to the former warehouse district which has transformed into the thriving Wynwood Walls. This is probably one of the most Instagram-worthy days of my trip. There are a plethora of beautiful murals to strut your favorite outfit and snap the perfect picture. Even if you're not concerned about posting that perfect picture, the overall area is a very enjoyable to just walk around. Everywhere you turn there are murals that are indeed visually pleasing. The area is flooded with boutiques, restaurants, and bars (for those of the legal age, of course). Each weekend there an outdoor marketplace, where you will find music, food trucks, and tables set with the local artist's creations. I love going because I never know what treasures I will find.
Miami is one of my favorite cities when it comes to a vacation. What's your favorite? Let us know in the comments below.