What's up, fellow Fashionistas and Fashionistos? I am Samantha Limon (yes, that is Lemon in Spanish), a little freshman at Cal State San Bernardino who is currently studying psychology. I know, I know, what am I doing here with all these fashion and business majors? I just have a love for finding clothes and making the outfits my own. Although I don't dream of being big in the fashion industry, I find my love for fashion always making its way into my life. I was taught growing up that how you present yourself is important, and with a mother who was a Fashionista in her own right, dressing to impress had become ingrained in my life. I cannot wait to begin this amazing internship as a Style Guru!
Let me tell you a little more about myself—I grew up in California. My relationship with living here is up and down just like the weather. Being in California has taught me to love and appreciate both the beautiful outdoors and the exciting rush of city life. Trips to the beach, mountains, and LA are some of my favorite things; breathing in the fresh open air after a beautiful hike, or having that exhilarating feeling that the streets of LA offer is something I can never turn down.
I have always been involved in something, whether it was sports, clubs, or a job. When I came to college, I had to get myself involved in something, and what better way than to join a sorority? I recruited with Kappa Delta and I am so thankful for it. KD has made my college experience just so amazing and exciting thus far, and offered so many opportunities…including discovering what CollegeFashionista is (shoutout to Mary!). I love music and I am what I might call a "concert junkie"…where my wallet weakness lies (…and with food of course). I listen to almost everything depending on my music mood, and my fashion seems to mold to that, which is something I really like about myself. I don't tend to just stick to the latest fashion trends, and I always throw in my own twist!
Summer weather is slowly inching its way in to California, and that gave me the perfect opportunity to break out my new favorite sundress.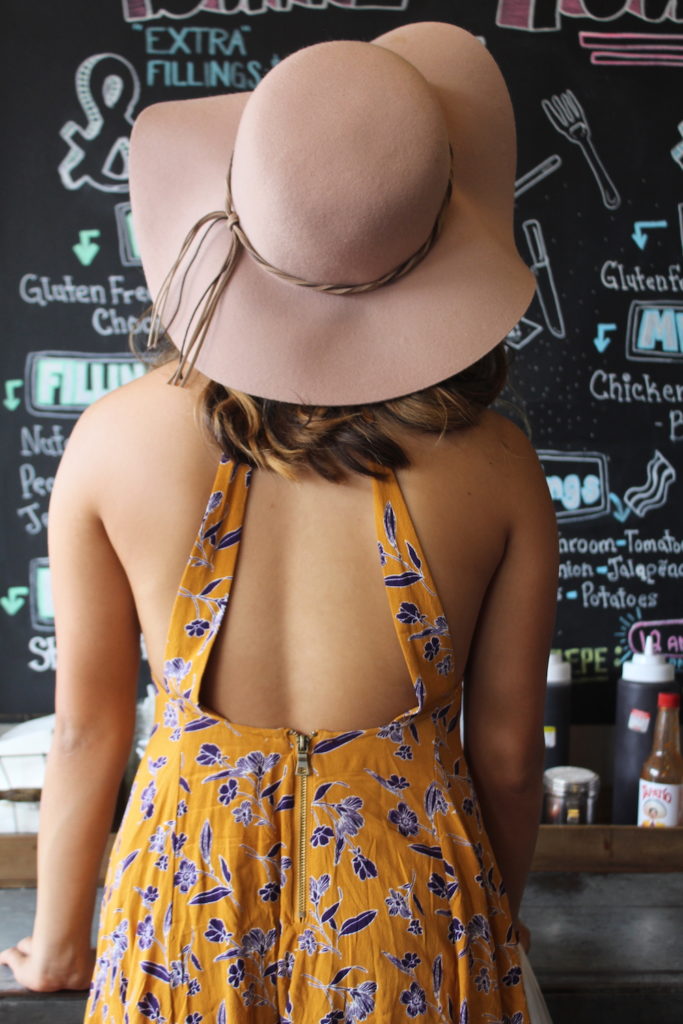 Backless is in, and when this adorable backless dress (pictured) was on those thrift store racks it was an "I-got-to-have-you" moment. Sundresses can never take a wrong turn when paired with a pair of wooden wedges, must-haves in every Fashionista's closet. I gave this outfit my own little flare by adding a cute copper bracelet, mustard yellow ring, and a Bohemian-style ring on my thumb. To top this look off, I threw in a tan sun hat, because, after all, what yells out "summer is here" better than an adorable floppy hat?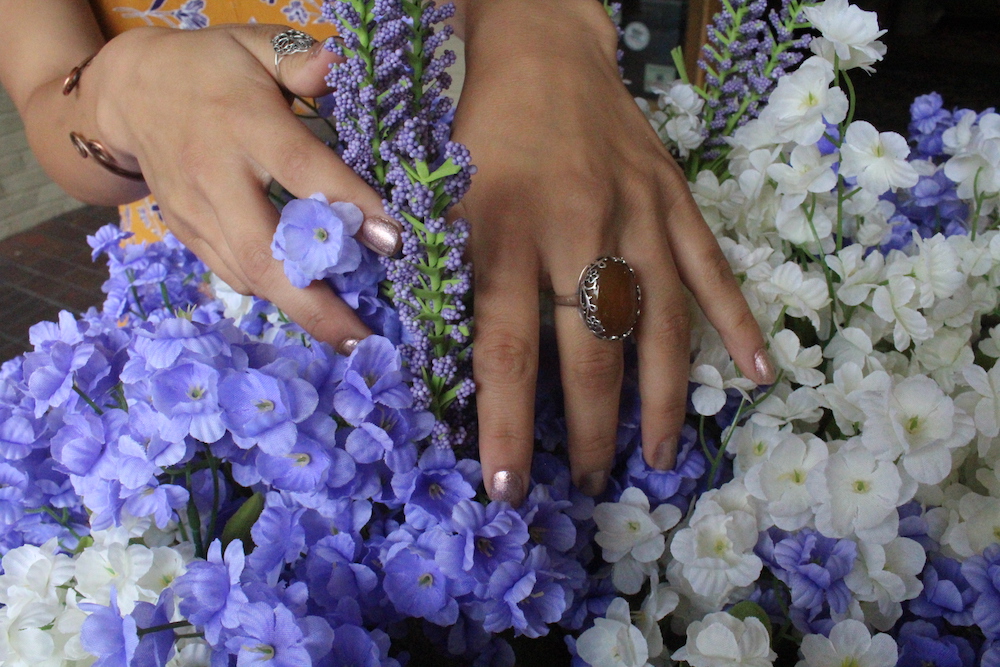 I'm beyond excited to share some #RAD outfits with you all, and begin this amazing journey as a Style Guru. I want people to know that being unique is amazing, and to never be afraid to wear what you love!
Just keep struttin,' and feel free to drop some of your own summer sundress-ing tips in the comments below!