Summer is rapidly approaching and you know what that means! Put those dark-colored clothes away and break out the bright-colored swim suits and sun dresses! Right? Not necessarily. Winter may be long gone, but that does not mean that one cannot still rock their favorite dark hues, especially their go-to black skinny jeans! For those who are skeptical about wearing black jeans in the summer, I am here to show you that they can be part of your summer style!
Black Skinny Jeans For Your Summer Night Out
Many summer nights call for countless girls' nights out. This outfit captures the night time feel while maintaining to keep the summer vibe! I matched these ripped, black skinny jeans with a rose-embroidered bodysuit. In addition, I combined it with a light pink lace choker and a simple heel. The best part is that anyone wearing a dark-colored jean can mix and match with any colored top or accessory that they desire! The lightness of the flower and lace accents balance with the dark pants; as a result, the perfect outfit for a beautiful summer night on the town.
Black Skinny Jeans For Your Casual Summer Day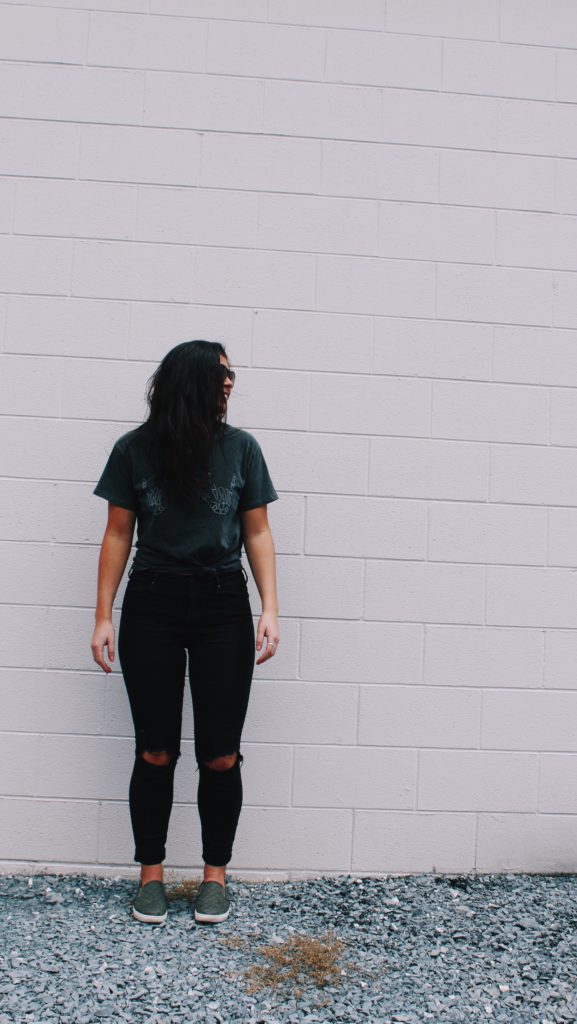 The summer is filled with months full of spontaneity. What I love most about wearing black jeans is that they are extremely versatile! Therefore, they are perfect for any occasion; whether that be a day spent shopping or spent inside with friends. In opposition to the first outfit, this outfit shows off an easygoing, relaxed look. For this look, I chose a gray tied-up graphic T-shirt paired with ripped, black skinny jeans. In addition, I decided on an army green slip-on sneaker for the shoe. This outfit is super comfy and perfect for a more low-key day. With the black jeans, anyone can add their favorite band or graphic T-shirt to make for their own fun, personalized look.
Again, do not be afraid to rock dark colors throughout the summer! This is your chance to use your creativity to combine bold colors and unique accessories to turn your favorite pair of black skinny jeans into a summer staple!
Do you agree with the idea of wearing black, skinny jeans in the summer? Let me know in the comments below!