Styling for summer can be hard. Trying to stay cool while also being cute can be tricky, but flowy and lightweight clothing is key. Yellow and white are great for this season and pair very nicely together. Our Fashionista here has perfectly demonstrated how to rock this fun color combo.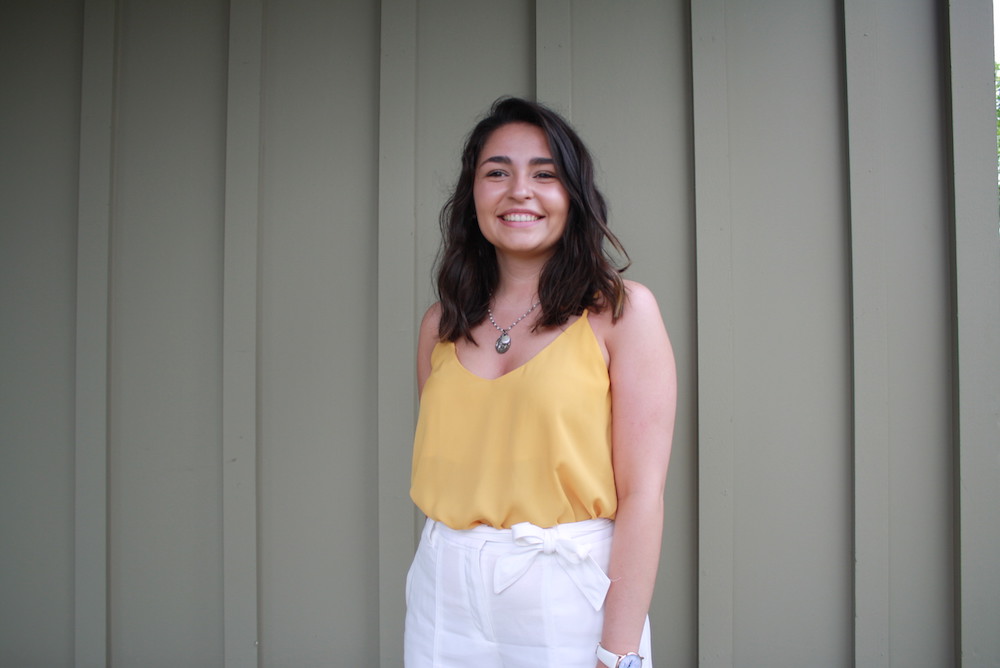 Few people are able to pull off anything yellow simply because they don't know how to correctly wear the color. This muted shade of yellow complements her olive skin tone and dark hair, as well as the white pants. The material of the top is lightweight, meaning that it won't create too much body heat in this ridiculously hot summer weather.
The pants in this outfit are fabulous. The white pants give the overall look a lighter and more appropriate feel for the season. Wide pant legs tend to be extremely flattering on everyone, but especially shorter girls. They give the illusion of longer and taller legs while also dressing up the outfit. The tie belt adds a little extra detail to the otherwise plain and simple pants.
Brown wedges are a wardrobe essential. They are classic and can turn any casual outfit into more of a dressy one. The straps on this particular pair are cute and add detail. Not only do the wide leg pants make this Fashionista's legs look longer, but paired with the wedges, she looks even taller. They pair together very well.
I love the subtle jewelry in this outfit. The metal tone of the necklace is very "in" right now. It's delicate yet chunky at the same time. The watch is cute and simple, and it pairs greatly with the look.
This is outfit is a great look for the summer. Whether it's to a nice lunch with your girlfriends or for a date night dinner out, this is a versatile outfit for the whole season.
How do you style yellow and white? Post a picture, and don't forget to tag @CFashionista!