This summer was one of growth for myself both personally and professionally. I didn't plan for more than just simply splashing in the waves with my friends I hadn't seen since Christmas.
This past semester, I studied abroad in Prague, and the experiences I lived there will be ones I never forget. However, after four months, I couldn't wait to be home in Florida soaking up the sun central Europe had just begun to see. That's when everything changed: I got an email congratulating me on landing my dream internship… in New York City. I knew I would be back in the fall for my senior year, which is partly why this summer was so important, and now it was being stripped away. Flash forward two months: summer is almost over and I have spent it learning so much about my craft and meeting people who will shape my future. Sometimes, the unexpected things in life end up being the most important or best moments, and I do not regret any of them this summer.
However, with only a couple of days to pack up my entire summer wardrobe and 50 pounds to limit it to… let's just say Kate from Lizzie McGuire would be judging me so hard as I have definitely been an outfit repeater. So, with limited options and a little creativity, here are five outfits that use one piece to take you stylish in and out of the office.
Culottes are completely in right now, but why not get double duty from them in jumpsuit form? Wear them with some cute slides and a crossbody for an effortless weekend look or dress them up heels and a clutch for a night on the town. I opted to go a step further and found three ways to make my culotte jumpsuit completely unrecognizable but completely fashionable.
1—For the office. Pair with a white, embellished button-down shirt (no jewelry, thank you), a sharp blazer, and kitten heels. Smart, sneaky, and stylish!
2—For the weekend. Wear your favorite lived-in embellished T-shirt with a small knot tucked in for brunch with friends.
3—For a night on the town. Tuck the top of the jumpsuit down and wear an off-the-shoulder black velvet top to add a luxe factor. Belted with a crystal-beaded sash, it's the perfect outfit for the perfect night out.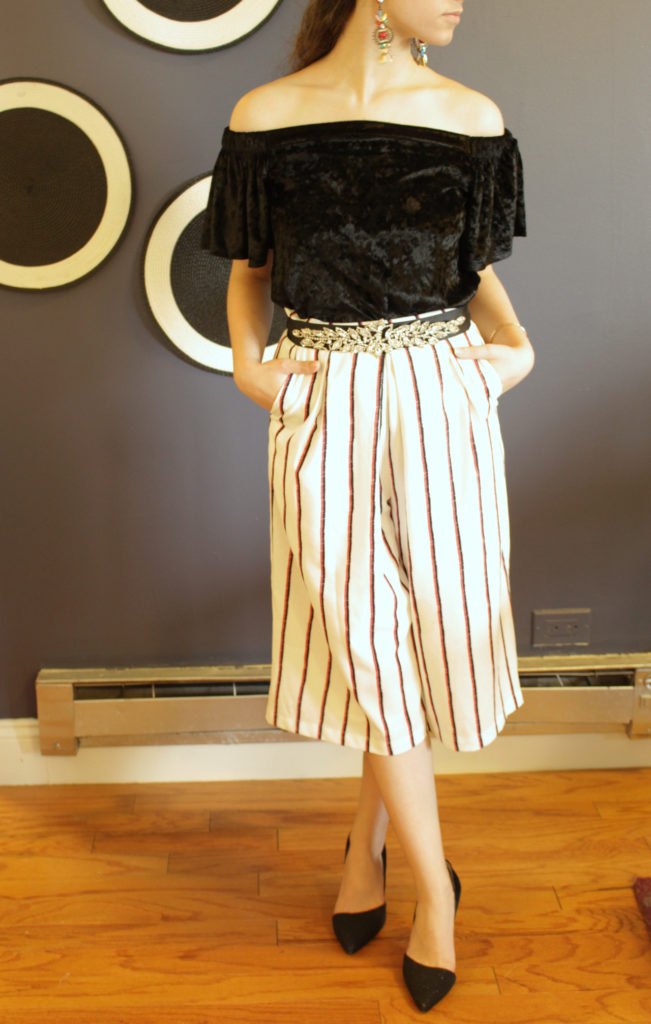 What ways do you repurpose pieces in your closet? Share your looks with us on Instagram, and don't forget to tag @Cfashionista!
SaveSave