With the transition into fall fashion just ahead, it's time to discover new trends and revamp some of our summer favorites. Jumpsuits have been all the rage over the summer, seen on celebrities and Fashionistas alike. I'm a huge fan of jumpsuits because they're so versatile and easy to wear for any occasion, but it can be a challenge to transition into styling them for cooler temperatures. Check out the two ways I came up with to wear your cutest jumpsuit this fall and find out why you should jump on the trend!
Like I said, jumpsuits are perfect for any occasion because you can style them in so many ways. This black overall jumpsuit is the perfect mix of simple and trendy and allows Fashionistas to wear whatever speaks to them under it. They're also super easy to wear since they're only one piece and always make you look put together and fashion-forward.
If you want to go for a more casual look, pair your jumpsuit with cute sneakers, a casual T-shirt, and some layers. Whether you're going to class, hanging with friends, or going on a date, this look is easy and adorable while still showing your personal style. This Fashionista matched her white T-shirt with her Converse and kept it trendy by adding this embroidered denim jacket to keep warm.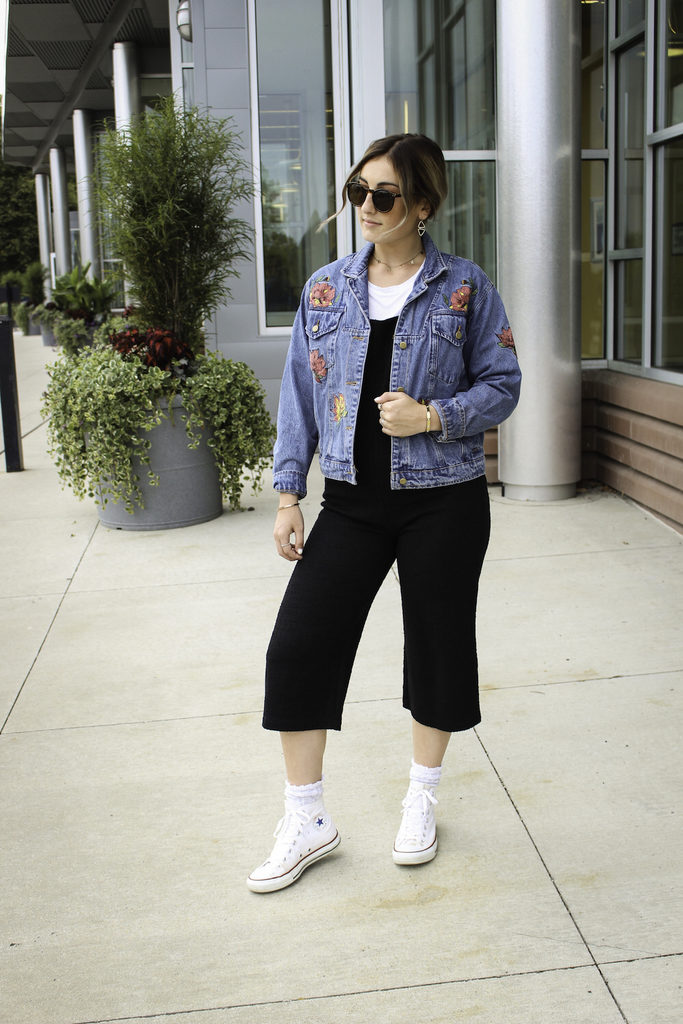 PHOTO: Ali Bell
If you're going for something a little fancier, try pairing your jumpsuit with heels or wedges and some jewelry. Accessories go a long way in making a look nicer. This Fashionista paired the same black jumpsuit with a cute blouse, which gives it a nicer vibe, some fall wedges, and delicate jewelry. A simple jumpsuit can be made to look polished and even professional when styled correctly, so don't be afraid to try it out.
PHOTO: Ali Bell
No matter where you're going, throwing on a jumpsuit is the perfect way to get there in style. They're simple, cute, and can easily go from day-to-night. The biggest celebrities and fashion insiders have been embracing the jumpsuit trend for months now, so what are you waiting for? Style your favorite one-piece for your life and rock it!
Show us how you style a jumpsuit by tagging @Cfashionista in your photos on Instagram!