There's no need to defend my feet from dirty trench water, because I stick to pavement and the occasional puddle. The only thousand-yard stare I have experienced is spotting a must-have item from across the store and instantaneously falling in love. What can I say? Military boots are just super cute right now.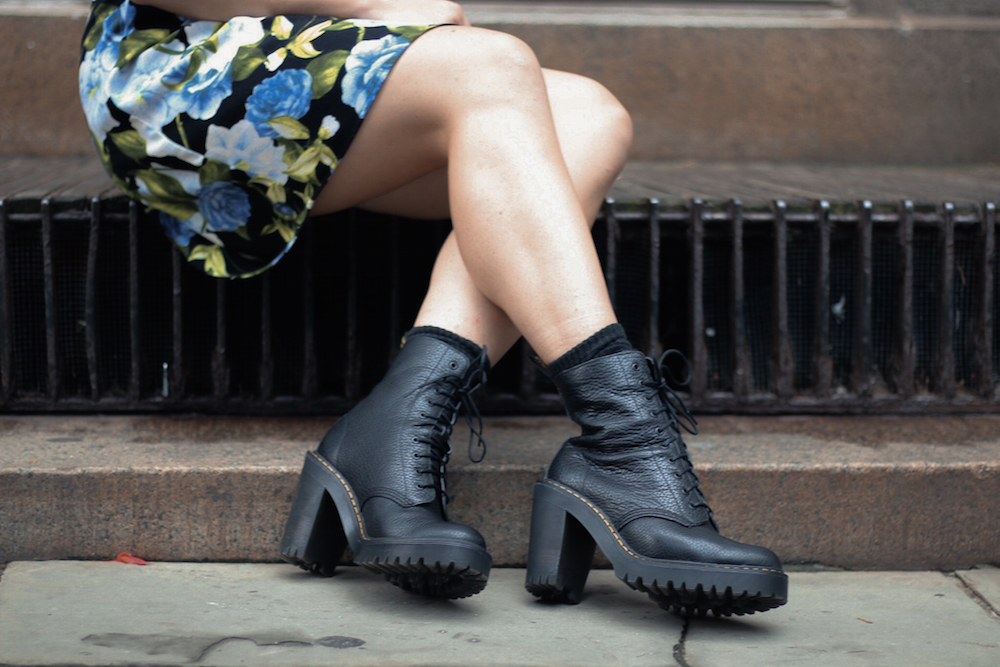 PHOTO: Leana Concepcion
Originally created to withstand harsh weather conditions and mortal combat, military boots were made to be sturdy. Nearly indestructible, but definitely not cute. However, when chunky boots became a style rather than a necessity, the cuteness factor skyrocketed. Now anyone can purchase full-on glitter military boots, or even a pair with heels.
Combat boots come with a stately, traditional vibe. They're structured, neutral, and classic. These shoes are popularly styled with jeans and a flannel; however, the possibilities are endless in terms of style. A baggy sweater or cropped T-shirt with chunky boots are also popular combinations. I wear maroon Dr. Marten's regularly, and that slight pop of color adds so much spunk to my outfits.
For some Style Gurus, the masculinity of military boots is overwhelming; however, I think even the girliest of girls should give them a go. Boots look great with pants as well as dresses and skirts. Outfits should be chosen based on what you find stylish in your comfort zone. A flowery dress with boots is always a pleasant surprise in terms of street style.
Everyone loves a good guilty pleasure outfit. This summer, I lived in Birkenstocks. They're the most convenient shoe for my everyday business. Once it gets colder and I replace shorts with sweatpants, I pair my Dr. Marten's with acid-wash sweats and a casual shirt. It's easy, comfortable, and appropriate in snow and rain; however, it looks edgy for a lazy day outfit.
Pro tip: do not settle on full retail prices. Dr. Marten's boots are great quality but sell for well over $100 at popular stores or on the website. It's important to check thrift stores before committing to a big purchase. In times like these, it's also nice to have places like Plato's Closet or apps like RetailMeNot.
Military boots are a staple for any Fashionista's wardrobe. Show us how you style yours and tag @cfashionista on Instagram!
Additional photos by Leana Concepcion.