Nina Garcia once said, "If my closet were burning, it'd be my collection of jackets I would save—they always make me feel pulled together." I definitely live by these words; sometimes all we need is a statement or casual jacket to make an outfit feel complete.
We are currently in the season where we expect hot summer weather but that is not always the case for everyone. This time of year, it's essential for people to bring a jacket with them when out on the town. Most people, like myself, hate having to cover up their outfit with a jacket when it's chilly outside. Luckily, this Fashionista has found the perfect cover up!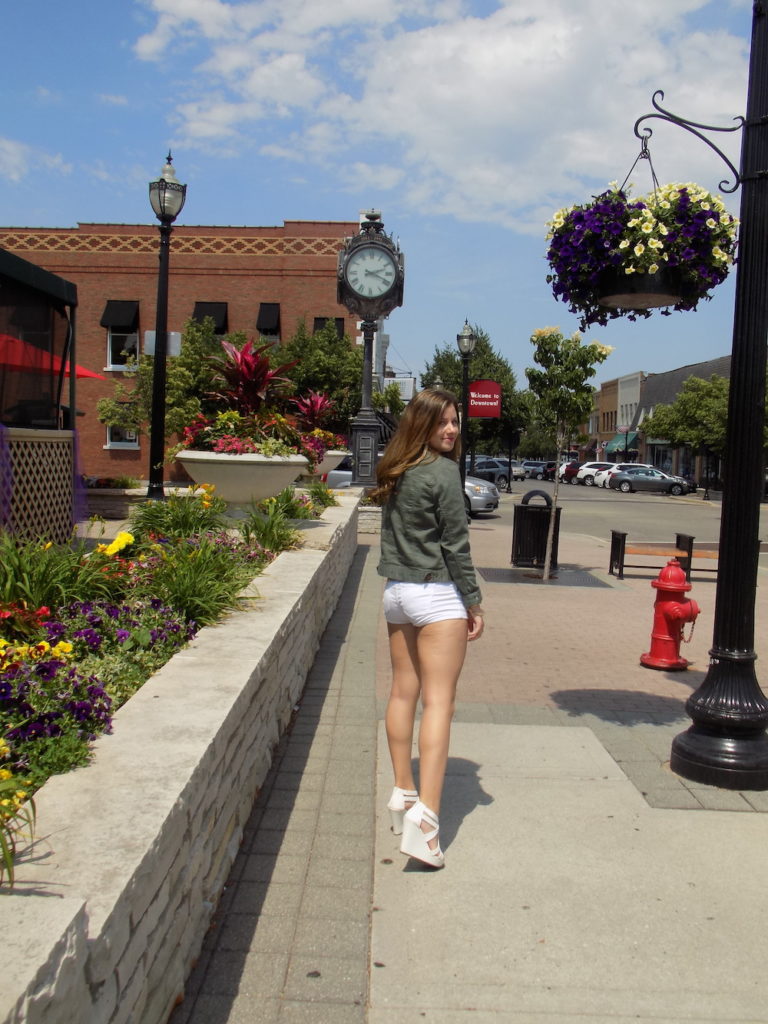 It is no secret that olive green has become very popular over the years and for some it has become a staple color in their wardrobe. It's easy for people to mix and match different jackets, shirts, and pants, however, having a go-to staple colored jacket would make picking out an outfit undoubtedly easier for many. I love how this olive green jacket complemented the green in this Fashionista's shirt. This jacket would also be great with a basic black or white shirt to give the outfit a little pop.
The first time this Fashionista tried on this jacket she was obsessed. She was almost wishing the weather would stay chilly just so she could wear it, but it also looks great when tied around the waist. This outfit was paired with white high-waisted shorts and wedges to give it a fancier look, but you could always wear sandals to be a bit more casual. That is what I love about this outfit—it can easily be dressed up or down with accessories, but has the cute and casual look no matter which you choose.
The Fashionista decided to pair gold and dressy jewelry with this outfit. She wore a trendy necklace, a few bracelets, rings, and her Michael Kors watch. Pairing different jewelry with a certain outfit is definitely essential to get the look you wish for. I love the way gold and olive green complement each other. This outfit gives off a big summer vibe with the floral pattern on the shirt and white on the shoes and shorts.
A basic makeup look was chosen to go with this outfit along with a rosy pink lipstick. This is definitely a go-to lipstick color. It complements the pink in the shirt perfectly and gives an amazing daytime shine to any outfit. I think each accessory paired with this outfit makes it look very complete and thought out, and it can easily be thrown together.
This outfit is perfect for any casual yet fun event. I love how dressed up or down this look can be with the help of accessories. This outfit shows how it is definitely possible to look cute, casual and chic.
How do you look cute, casual, and chic? Tag @CFashionista in your photos!