Living in New England is truly special. The beachy towns and cute little shops all provide something unique. Rockport is a town located on the eastern coast of Massachusetts. It is a part of the beautiful Cape Ann Coast. There is so much to do and so much to see and I'm so excited to show you how I spent my day and what I wore in this cute little town.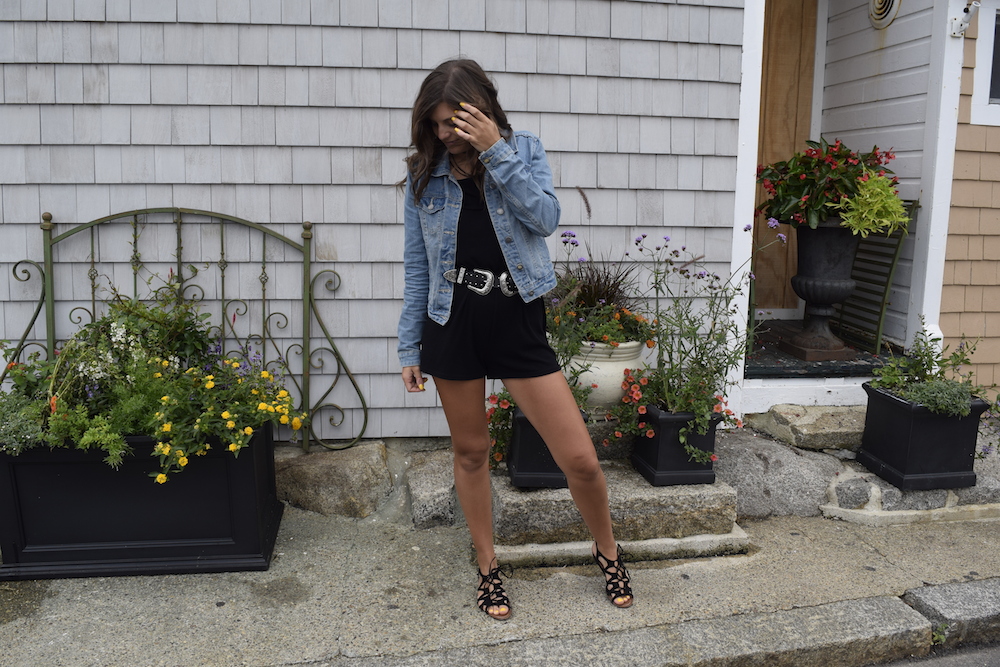 I wanted to dress cute but casual for my day. I definitely wanted to be comfortable walking around, so I wore a super comfortable off the shoulder black romper and accessorized it with my favorite black statement belt. I added a few chokers because I love to layer them. No outfit is complete without the perfect pair of shoes, so my black lace up sandals were the perfect fit!
My mom, cousin, and I had a great New England day. We started the day off in a neighboring town Gloucester which is also a part of the Cape Ann Coast. We stopped at George's Coffee Shop for possibly the best breakfast I've ever had. I ate breakfast potato skins!
After our great meal, we were on our way to Rockport. We started off just walking around into some of the cute little shops. Each boutique offers something a little different, but each one is filled with friendly staff and happy tourists shopping around. After that, we walked to the local beach just steps from downtown. Although it wasn't quite a beach day we noticed many people still enjoying themselves.
Just walking around Rockport is so cool. I just love the way the stores and restaurants meet the ocean. By walking around you can really tell how happy everyone is whether you're a regular or a tourist. After walking to some of the stores we walked to the end of downtown where the ocean is. Everyone was taking photos including myself, and happy to be in Rockport.
Towards the end of our day, I walked into a cute store called Revolve Consignment Boutique where I bought myself the cutest anchor ring. The store sits right at the end of a pier. It truly made for a perfect Rockport experience. Once it started to get a little cloudy and breezy, we headed back happy about our awesome day in this great little town. I have traveled to Rockport before, but today was something special.
Does Rockport sound like a place you would love to visit? Let me know in the comments below!