Spring is the season of final exams for students but it is also the time where cherry blossoms bloom. I guess it is nature's way of providing such beautiful pink scenery to help students deal with the exam gloom. In this post, I would like to share the perfect outfit for sakura watching.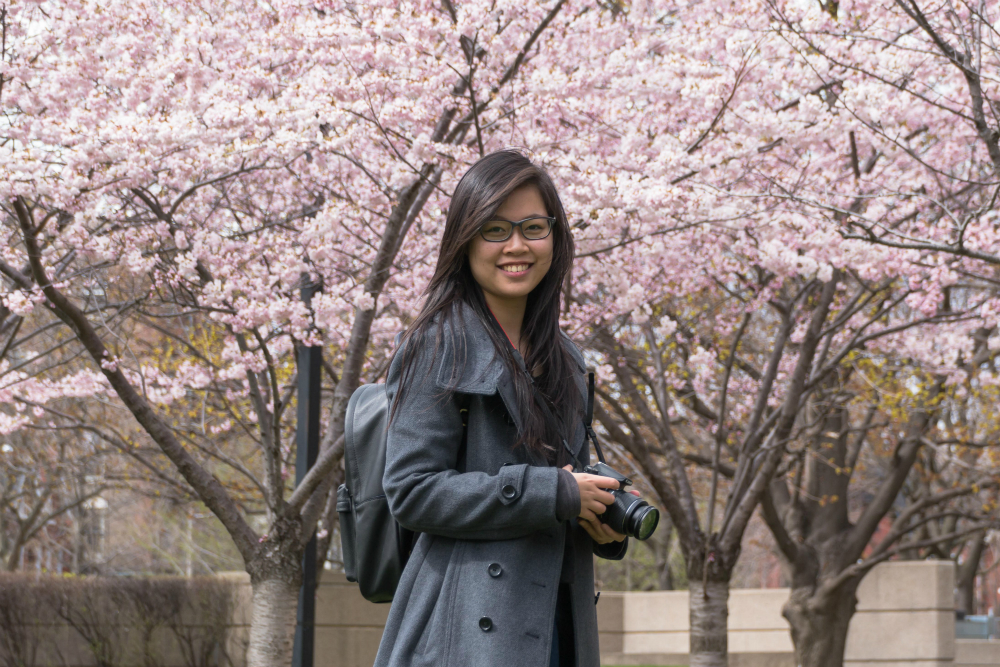 In this ever-changing weather that can be rainy and sunny, hot and cold, all at one time in spring, it is essential to have a coat that keeps you warm. Here I have an oversize gray coat on top of my favorite wardrobe staples, a simple black T-shirt and classic blue denim.
During exam time, a watch becomes a student's necessity. I accessorized my outfit with a Gran Ben watch in navy blue from St. Vincent & Newport. This watch features a minimalist and contemporary design with Roman numerals. The sapphire crystal glass and Seiko quartz movement is the perfect timepiece of style and function that is suitable for any occasion. Accessories that have these slight accents in the detail create a personal unique statement that keeps you on time during exams and complements well with the whole outfit, all while keeping you smart and stylish.
Backpacks are also an important item among college students to keep your study materials and other essentials, thus it is also an opportunity to express your own unique fashion style. I styled my look with a black leather backpack from mywalit. The backpack is a combination of both sophistication and simplicity. It acts as a perfect addition to any outfit. This black Panama backpack is made with nappa leather making the backpack understated, luxurious, and sophisticated in aesthetics, yet lightweight and durable in function.
Finally, I completed my outfit with a pair of Lance shoes from Aureus. Taking inspiration from golf, this modern sleek footwear features a microfiber and canvas upper that is water resistant to tackle those spring water puddles—it's all in the details! With the lightweight comfort and versatile color, this is the perfect footwear for students to have in their wardrobe to be worn from day to night with an elevated classy profile.
What's your perfect outfit for the new season? Show us on social media by tagging @Cfashionista!