Tailgate season has officially kicked off, which means it's time to bring your A game in school spirit! Football tailgate season has become known not just for the football but for the unique and cute outfits that girls wear to these events. It has almost become a competition to see how creative and stylish you can get. Tailgate outfits may be specific to certain colleges, but it has become a nationwide trend. Whether it's wearing an oversize football jersey or your own DIY college T-shirt, the possibilities for these styled outfits are endless. Multiple game days call for multiple outfits, so here are a few key elements that you'll want in your closet to keep you game-day ready.
First Outfit
Basic pieces can go a long way and be mixed and matched with different shirts and bottoms. Pairing frayed jean shorts and a DIY college T-shirt crop top is a super easy and cute way to show your school spirit and personal flair. There are so many different ways a college T-shirt can be personalized and fitted to your style. Cutting shirts like these are super simple. For a crop top like this, all that needs to be done is to cut it to the desired length and roll the sleeves to show off your arms—this creates a more stylish look that is less boxy.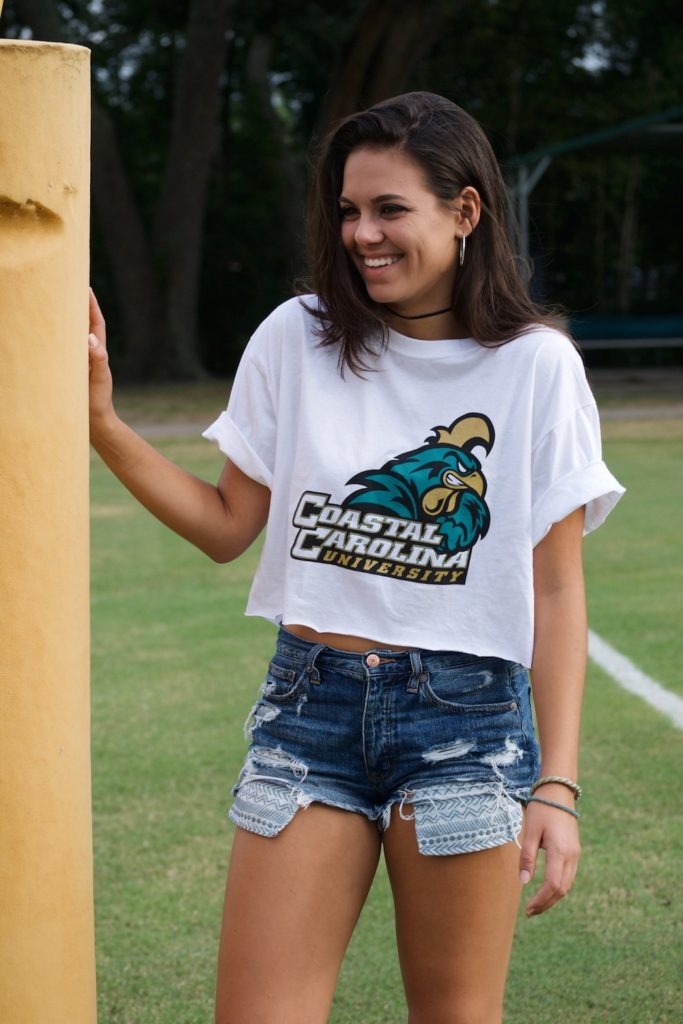 PHOTO: Sydney Zavadil
Tailgate Styling Tips
Pair this look with some white Converse and fun mid-calf socks that support your school colors. Don't forget to add jewelry. Bracelets you have laying around that match your school colors will give your look a little extra oomph! Bring in trends from your everyday outfits as well; silver hoops and a simple black choker help tie the look together.
Second Outfit:
Another super simple and cute outfit to wear to tailgating events is your school's jersey. The trend is to wear an oversize jersey so you have the option to wear it as a dress. Of course, you'll want to throw on some shorts and a cute bralette underneath since it is short and slightly see through. Overall, the look is a cool spin on a classic game day outfit.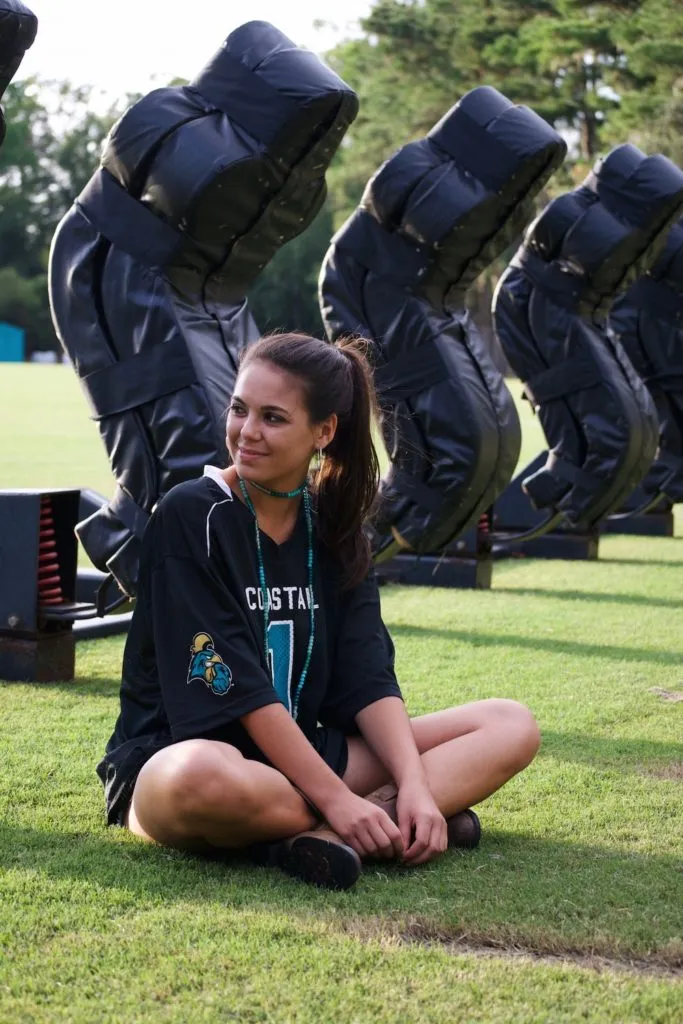 PHOTO: Sydney Zavadil
Tailgate Styling Tips
Add a double wrapped beaded necklace to match your school colors. If you can't find a necklace like this that matches your school colors, it's super easy to make with supplies from your local craft store. Depending on your school's geographical location, your shoe choice may lean towards sneakers. But if you're in the South, you could throw on some cowboy boots for a little Southern charm. To finish the look, throw your hair up into a high pony—it not only keeps your hair out of your face, but it also amps up the athletic look while keeping you looking sleek all night!
What's your favorite tailgating outfit? Let me know in the comments below or share on social media. Don't forget to tag @CFashionista in your post!